BC Fire Fighters donate $5,000 to youth curling
March 30, 2022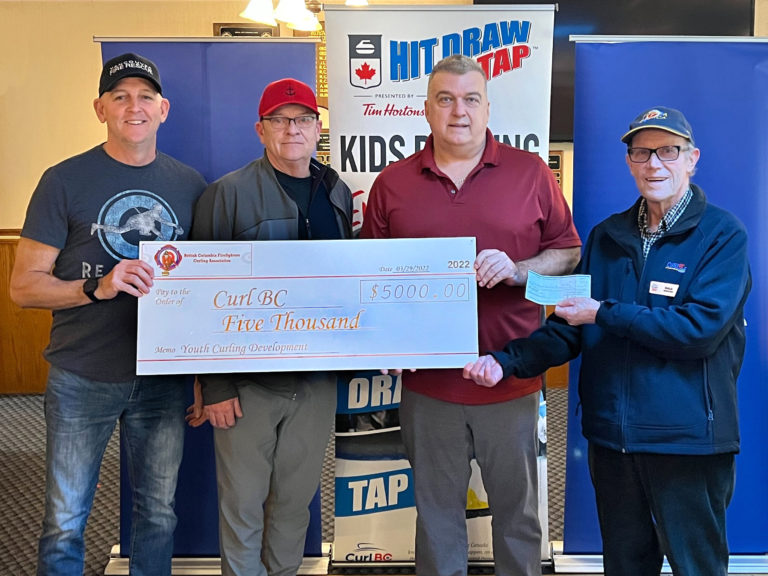 Last night, Curl BC was very happy to accept a $5,000 donation from the British Columbia Fire Fighters Curling Association.
The generous gift, which is earmarked for youth curling programs, was handed over at a ceremony at the Royal City Curling Club in New Westminster. Representing the BCFFCA were Steve Errington, Danny Collins, and Bill Nicol; Curl BC director Dale Gregory accepted the donation on behalf of the organization.
The BCFFCA was created through the dedicated efforts of Vancouver fire fighter Aubrey Neff. After starting a Vancouver Fire Department League, Neff then took the organization provincial, and by 1959 help it grow into other provinces, until a nation-wide organization was formed, the Canadian Firefighters Curling Association.
Incidentally—along with founding the BCFFCA—the Neff Family has a continuing involvement with curling in BC. Aubrey's brother Doug was instrumental in building and funding the Nanaimo Curling Club; his sons Doug Jr. and Rick were both high-level curlers (Rick won the 1972 BC Junior Men's Championship); and Rick's son Brendan is a competitive curler who just participated in the 2022 BC Club Championships).
The BCFFCA solicited funds from across the country, and split the total funds raised between Curl BC's youth programs and the BC Professional Fire Fighters Burn Fund.
"We really want to see our sport grow," said Rick Euper, secretary-treasurer of the BCFFCA and a director of the CFFCA, "to support the kids coming up, and provide for the future."
Curl BC would like to take this opportunity to once again thank the BCFFCA for their generous gift, it is very much appreciated and will go a long way towards invigorating our youth programs.
Subscribe to our newsletter
Receive the latest news updates, tournaments, programs, services and discounts.