Award and bylaw changes
June 14, 2021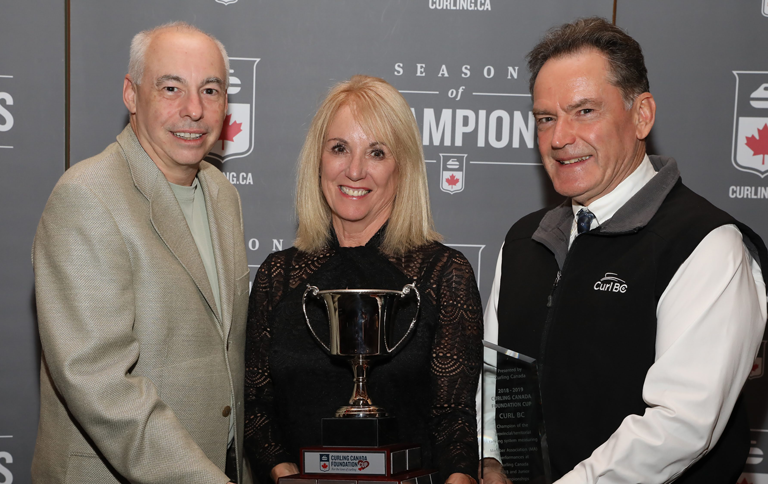 A special Curl BC Award was handed out at this year's AGM, which wrapped up on Saturday, June 12.
The Janette Robbins Award was handed out this year to someone who has demonstrated incredible leadership to curling in the province during this most challenging season – Curl BC's Board Chair for 2020-21, Teri Palynchuk (pictured with Past Chair Peter Muir and Curl BC CEO Scott Braley).
The AGM also saw the acclamation of Vancouver's Keith Switzer and Cranbrook's Andrew Benson as Governors at Large on the Curl BC Board.  Changes to Curl BC bylaws were also approved which will see Curl BC organize into eight Zones instead of 11 Regions.
Following the AGM, the board voted to have Neil Campbell sit as Board Chair and as a Zone Governor for the new Zone 6 (Vancouver Island) for one year. Switzer will remain as Vice Chair and Terry Hawes will move up to Vice Chair replacing Campbell.
The Janette Robbins Builder Award is given to an individual who represents the spirit of volunteerism and whose outstanding dedication, energy and commitment is critical to curling development and the advancement of curling in BC, and who has set an example of service for other volunteers.
Without a doubt, Palynchuk is all of those things.
From her first moment on the board six years ago to her past year as chair during one of the most unprecedented seasons, Palynchuk, from Nanaimo, has been a positive and reliable presence.
Curl BC CEO Scott Braley said: "Her calm leadership was extremely valuable to both the staff and her fellow board members.
"We would also like to recognize the work she did on the competitions committee, which she previously chaired. Her leadership here was a huge asset to Curl BC as we navigated the changes that have been occurring in the competitive landscape."
The Janette Robbins Award recipient is also the Sport BC Presidents' Award winner and Palynchuk will be invited to attend a gala dinner for Sport BC award winners from across the province.
Teri Palynchuk, who will sit as Past Chair for one year, said: "I am extremely honoured with this award which came as a complete shock and surprise to me. We curlers give back to the sport because, quite simply, we love it. There are so many deserving recipients for the award and I truly appreciate being recognized by my peers."
Neil Campbell added: "I would like to thank Teri for her work over the past six years but in particular this past year. I would also like to thank everyone who attended the AGM and I look forward to serving as Chair of the Curl BC Board for 2021-2022."
The AGM was also an opportunity to thank two board members who are leaving the board. Governor at Large Peter Muir, who has been serving on the board since 2014 (with the last year as Past Chair), will step away from board duties. Muir was instrumental in helping to modernize and streamline Curl BC's governance structure and helped clubs across the province with the transition to the new Societies Act.
Marg McKenzie, Regional Governor for Region 1&2 (The Kootenays), was also thanked for her two years of dedicated service to the board.
The bylaw changes will see Curl BC adopt BC Games zones used by the majority of the sport system.
It will also see regional committees disbanded.
Braley said: "On behalf of Curl BC we would like to thank the Regional Representatives who led these regional committees over the past few decades. These committees played a key role in coordinating regional playdowns, in ensuring best practices were shared, and in helping to communicate about opportunities and changes within the system. Thank you very much for all your work."
From now on:
Regional Representatives and Committees will decide for themselves how to spend any remaining regional money before officially disbanding
Regional meetings will still be held via Zoom twice per season, but they will be led by Curl BC and will be called Zone meetings
The Region to Zone breakdown:
Regions 1 & 2 (Kootenays) has become Zone 1
Regions 3, 4 & 7 (Thompson/Okanagan) has become Zone 2
Regions 6 & 5 (Northwest & Northeast) has become Zones 7 & 8
Regions 8, 9 & 10 (Vancouver Island) has become Zone 6
Region 11 (Lower Mainland) has become Zones 3, 4 & 5.
For the purposes of playdowns, if there are regional playdowns (except for BC Winter Games), Zone 7&8 will playdown as one inter-zone area. Zone 3,4&5 will also playdown as one inter-zone area. Competitive curlers will therefore not see a change in the clubs they playdown against.
There will also be changes to the way Governors are elected.
Clearly defined election process with required gender representation
Representation from 5 major geographic areas will be encouraged
Elections only held at the Curl BC AGM
Clearly defined nomination process for all Governors
Terms change from two to three years with a maximum of six consecutive years.
More well defined and appropriate provisions for Removal of Governor, when necessary.
For more information about curling in BC visit www.curlbc.ca.
Anyone with any questions about the changes can contact CEO Scott Braley at sbraley@curlbc.ca or Member Services Manager Kim Dennis at kdennis@curlbc.ca.
Subscribe to our newsletter
Receive the latest news updates, tournaments, programs, services and discounts.