24 teams head to Club Challenge
February 18, 2020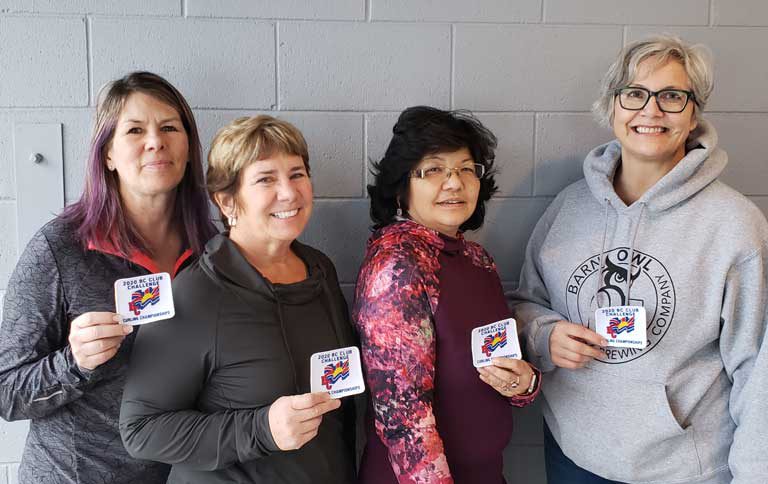 Twenty-four teams of club curlers have qualified for a provincial championship at Royal City Curling Club.
It is the 21st year of the BC Club Challenge, presented by Original 16, which sees teams that compete at the club level gather together to name men's and women's provincial champions.
This is the first year that Original 16 has joined the event as a sponsor.
Mark Watson, VP, Marketing, of Original 16, said: "Our opening season as the Official Beer of Curl BC is going fantastic and we are proud to sponsor of the BC Club Challenge.  We'd like to congratulate all the qualifiers and toast them as they move towards the provincial championships."
The event was previously combined with the Pacific International Cup in Richmond, but for the second year in a row it is being run separately.
The final event to qualify the final two teams went ahead this past weekend (Feb. 15-16) at playdowns in Campbell River.
At the provincial championships running at Royal City Curling Club from Mar. 26-29, there will be 12 women's teams and 12 men's teams.
Rosters, scores and schedules will be posted at http://playdowns.curlbc.ca nearer to the time of the start of the event. The clubs represented in the Club Challenge are included in the rosters below.
Provincial winners will go to the 2020 Canadian Curling Club Championships at a place not yet determined, while second- and third-placed teams will win entry to the Pacific International Cup (PIC) in Richmond. Two additional men's berths and two additional women's berths to the PIC will be randomly drawn from all of the entries in playdowns province-wide.
The PIC runs from April 15-19, 2020, at Richmond Curling Club.
Full team rosters:
MEN
Team Gomes, Delta Thistle
Skip: Chris Gomes
Third: Patrick Prade
Second: Martin Perry
Lead: Brian Cole
Fifth: Alex Volkov
Team Shimizu, Tunnel Town
Skip: Vic Shimizu
Third: Cody Tanaka
Second: Trevor Bakken
Lead: Mark Yodogawa
Fifth: Trent Bakken
Team Guanzon, Marpole
Skip: Armando Guanzon
Third: Mike Eastwood
Second: Ernest Moi
Lead: Ian Baart
Team Peckham, GEWC
Skip: Jason Peckham
Third: Evan Branter
Second: Kyle Duncan
Lead: Stacey Shannon
Team Frycz, Langley
Skip: Darren Frycz
Third: Mike Sitter
SEcond: Don Monk
Lead: Kelly Folk
Fifth: Steve Claxton
Team Plant, Quesnel
Skip: David Plant
Third: Colin Shpak
Second: Todd Jensen
Lead: Shane Yamamoto
Team Pihowich, Nelson
Skip: Brent Pihowich
Third: Lanny Labelle
Second: Brian Garvin
Lead: Randy McShaner
Fifth: Jason Flexhaug
Team Sutton, Victoria
Skip: Denis Sutton
Third: Jake Wenaus
Second: Nick Drought
Lead: Darren Parent
Team Genoway, Salmon Arm
Skip: Bob Genoway
Third: Scott Furevick
Second: Myles Chapin
Lead: John Danks
Team Vogan, Salmon Arm
Skip: Seth Vogan
Third: Rick Miller
Second: Brian Young
Lead: Brian Schreiner
Team Jonsson, Campbell River
Skip: Kimmie Jonsson
Third: Lonnie Schopp
Second: Kelly Bleau
Lead: Cynthia Lu
Host team: Team Leake, Royal City
Roster TBD
WOMEN
Team Geiger, Langley
Skip: Debbie Geiger
Third: Connie Stunden
Second: Susan Loken
Lead: Elaine Gooliaeff
Team Yager, Royal City
Skip: Elisha Yager
Third: Donna Mychaluk
Second: Crystal Murray
Lead: Victoria Murphy
Fifth: Lindsay Maxwell
Team Hannah, GEWC
Skip: Colleen Hannah
Third: Lisa Speers
Second: Rebecca Abbot
Lead: Kaelen Coles-Lyster
Team Seemann, Kelowna
Skip: Lori Seeman
Third: Joanne Koepke
Second: Lorrie Wright
Lead: Kim Asao
Team Olsen, Kamloops
Skip: Lori Olsen
Third: Cierra Fisher
Second: Katie Jackson
Lead: Theresa Tourand
Team Lee, Cranbrook
Skip: Lynn Lee
Third: Samantha Young
Second: Morgan Lypka
Lead: Anna Koochin
Team Wong, Qualicum
Skip: Shirley Wong
Third: Shannon Roberts
Second: Ann Fyfe
Lead: Darcie Demchuk
Team Shearer, Nanaimo
Skip: Leslie Shearer
Third: Susan Chepil
Second: April Gale-Seixeiro
Lead: Carol Dorman
Team Dreher, Nelson
Skip: Marla Dreher
Third: Michelle Kooznetsoff
Second: Deana Cownden
Lead: Shadow Biln
Fifth: Marlo Tedesco
Team Copeland, Prince George
Skip: Wendee Copeland
Third: Wanda Anderson
Second: Julianne Slaney
Lead: Jennilee Slaney
Team Schmidt, Comox Valley Curling Club
Skip: Ron Schmidt
Third: Norm Cote
Second: Randy Baert
Lead: Mike Meeres
Host team: Team Miller, Royal City
Roster TBD
Subscribe to our newsletter
Receive the latest news updates, tournaments, programs, services and discounts.