2023 U21 BC Curling Championships slide into Duncan this week
January 24, 2023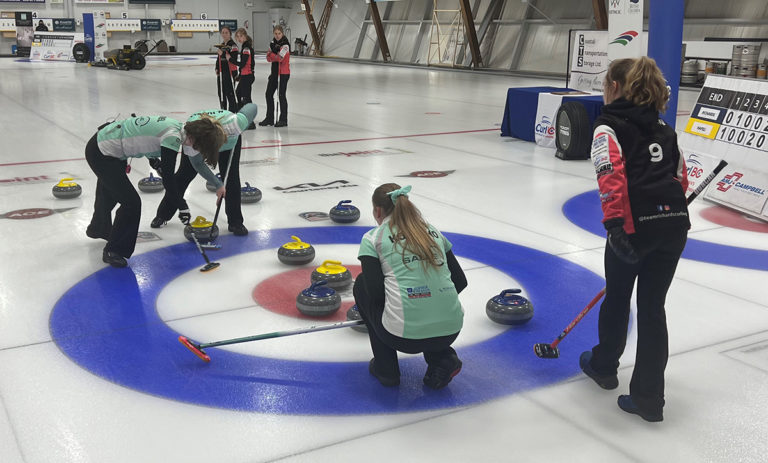 The on-ice action will be hot this week at the Duncan Curling Club, as the 2023 BC U21 Curling Championships brings the province's best youth curling to the Cowichan Valley.
The championships, which sees teams arrive on Wednesday and begin play on Thursday, will feature six women's teams and four men's teams battling it out for their respective titles, and a chance to represent BC at the national U21 championships in Rouyn-Noranda, Quebec from March 25th-April 2nd.
While just one team from the women's side of the event will advance to the national championships, due to excellent results at previous U21 nationals we will be able to send a BC1 Men's and BC2 Men's teams to Quebec, putting additional pressure on the men's semi-final games in Duncan.
Both championships—men's and women's—will be set across nine draws, with A, B, and C qualifiers.  The men's final will take place at 9:00am on Sunday, January 29th; the women's at 2:00pm on the same day.
Along with intensive preparation by the competitors, this event is also the result of much hard work by co-chairs Brook Reintjes and Kelly Meikle, of the Duncan Host Committee, and Curl BC chief ice technician Mike Merklinger along with installation support from Victoria Curling Club Chief Ice Technician, Cody Hall. Guiding and learning from our Curl BC ice technician team will be the long-term head ice technician from the Duncan Curling Club, Nolan Reid. Overseeing the field of play will be Chief Umpire Phil Mckenzie and Deputy Chief Umpire Dave Shortill, and there's also an army of volunteers who handle a multitude of crucial tasks like umpiring and timing.
For live scoring, please visit bot.curlbc.ca once the championship is underway.
For the schedule of events and draw information click below:
Games will be steamed live on Curl BC's YouTube channel, and the semi-finals and finals will be streamed on cbcsports.ca.
Women's team competing at the 2023 BC U21 Championships are:
Team Elizabeth Bowles – Elizabeth Bowles, skip; Gabby Brissette, third; Ashley Mallett, second; Chelsea Taylor, lead
Team Emily Bowles – Emily Bowles, skip; Meredith Cole, third; Mahra Harris, second; Sasha Wilson, lead
Team Keelie Duncan – Keelie Duncan, skip; Sarah Wong, third; Carlie Hardie, second; Kate Hancock, lead
Team Kaelen Coles-Lyster – Kaelen Coles-Lyster, skip; Marijke McDonald, third; Ella Casparis, second; Madeline Dobell, lead
Team Holly Hafeli – Holly Hafeli, skip; Jorja Kopytko, third; Hannah O'Neill, second; Natalie Hafeli, lead; Eryn Czirfusz, fifth
Team Bryelle Wong – Bryelle Wong, skip; Morgan Bowles, third; Alexis Nguyen second; Erin Fitzgibbon, lead
And the men's teams are:
Team Nolan Blaeser – Kaiden Beck, skip, Nolan Blaeser, fourth; Nolan Beck, second; Koen Hampshire, lead
Team Calder Fadden – Calder Fadden, skip; Coburn Fadden, third; Christian Klein-Beekman, second, Maguire Williams, lead
Team Adam Fenton – Adam Fenton, skip; Alex Duncan-Wu, third; Chris Parkinson, second; Matthew Fenton, lead
Team Thomas Reed – Thomas Reed, skip; Preston Ballard, third; Neil Imada, second; Miles Reed, lead
Subscribe to our newsletter
Receive the latest news updates, tournaments, programs, services and discounts.