2023 Scotties and 2023 BC Men's Curling Championships open in Chilliwack this week
January 09, 2023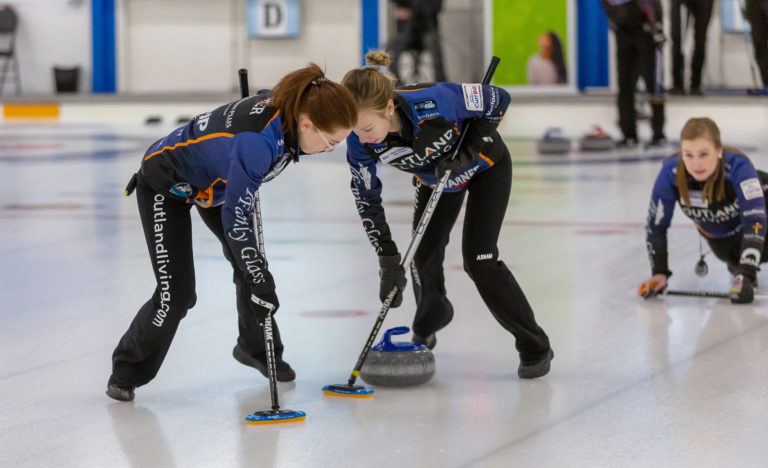 Curl BC is thrilled to have the 2023 Scotties BC Women's Curling Championship, presented by Best Western, and the 2023 BC Men's Curling Championship open in Chilliwack this week.
Both events run from January 10th to 15th, with the championship finals taking place on Sunday the 15th.
"These two championships are our flagship events," says Scott Braley, CEO of Curl BC, the provincial governing body for the sport of curling. "and we couldn't be happier to be holding them in a wonderful city like Chilliwack, at a top-notch venue like the Chilliwack Curling Club."
Last year's men's champions, Team Brent Pierce—Brent Pierce (skip), Jeff Richard (third) Jared Kolomaya (second), and Nick Meister (lead)—will also be headed to this year's event, as defending champions they receive an automatic bye (2022 women's champions, Team Arsenault have decided to not defend their title).
Teams competing in the 2023 Scotties are as follows:
Team Brown – Corryn Brown, skip; Erin Pincott, third; Dezaray Hawes, second, Samantha Fisher, lead
Team Cowan – Sheilla Cowan, skip; Sandra Comadina, third; Stephanie Cask, second; Christine Mathews, lead; Julie Bellerive, fifth
Team Grandy – Clancy Grandy, skip; Kayla MacMillan, third; Lindsay Dubue, second; Sarah Loken, lead
Team Gushulak – Brett Richards, skip; Blaine De Jager, third; Alyssa Kyllo, second; Diane Gushulak, lead; Grace MacInnes, fifth
Team Jensen – Shawna Jensen, skip; Layna Pohlod, third; Sarah Wong, second; Amanda Wong, lead
Team Reese-Hansen – Taylor Reese-Hansen, skip; Megan McGillivray, third; Cierra Fisher, second; Sydney Brilz, lead; Dailene Pewarchuk, fifth
Team Ryan – Kristen Ryan, Skip; Megan Daniels, third; Kirsten Fox, second; Dawn Mesana, lead
Team Wark – Sarah Wark, skip; Kristen Pilote, third; Karla Thompson, second; Amanda Brennan, lead
And the teams competing in the men's championship are:
Team Cotter – Jim Cotter, skip; Grant Olsen, third; Andrew Nerpin, second; Rick Sawatsky, lead; Tyrel Griffith, fifth
Team Cseke – Paul Cseke, skip; Corey Chester, third; Jay Wakefield, second; Ty Russel, lead; John Cullen, fifth
Team de Jong – Cam de Jong, skip; Matthew Tolley, third; Erik Colwell, second; John Slattery, lead; Logan Miron, fifth
Team Fenton – Adam Fenton, skip; Alex Duncan-Wu, third; Chris Parkinson, second; Matthew Fenton, lead; Brad Fenton, fifth
Team Gauthier – Jacques Gauthier, skip; Sterling Middleton, third; Jason Ginter, second; Alex Horvath, lead
Team Geall – Sean Geall, skip; Brad Wood, third; Mitchell Kopytko, second; Darin Gerow, lead
Team Joanisse – Dean Joanisse, skip; Grant Dezura, third; Brendan Willis, second; Neil Cursons, lead
Team Medford – Christopher Medford, skip; Steven Tersmette, third; Mitchell Young, second; Blair Jarvis, lead
Team Pierce – Brent Pierce, skip; Jeff Richard, third; Jared Kolomaya, second; Nicholas Meister, lead
Team Montgomery – Jason Montgomery, skip; Chris Baier, third; Miles Craig, second; Will Duggan, lead
Team Robillard – Sebastien Robillard, skip; Richard Krell, second; Daniel Wenzek, third; Nathan Small, lead
Team Tanaka – Cody Tanaka, skip; Joshua Miki, third; Nicholas Umbach, second; Connor Kent, lead; Matt McCrady, fifth
While this is Chilliwack's first BC Men's and Scotties, the city has been no stranger to curling events. In 2016, it hosted the BC Juniors, and, in the last five months alone, it has welcomed the 2021 U16 Challenge Cup, the 2022 BC Seniors Championship, and the 2023 Canada Winter Games qualifiers.
The winning men's team from this week's championship will go on to compete at the 2023 Tim Hortons Brier in London, ON. The winning women's team will compete at the 2023 Scotties Tournament of Hearts, which will take place in Kamloops, BC.
Subscribe to our newsletter
Receive the latest news updates, tournaments, programs, services and discounts.