2023 Connect Hearing BC Masters Day 4 Recap – Shantz & Sieg victorious
February 27, 2023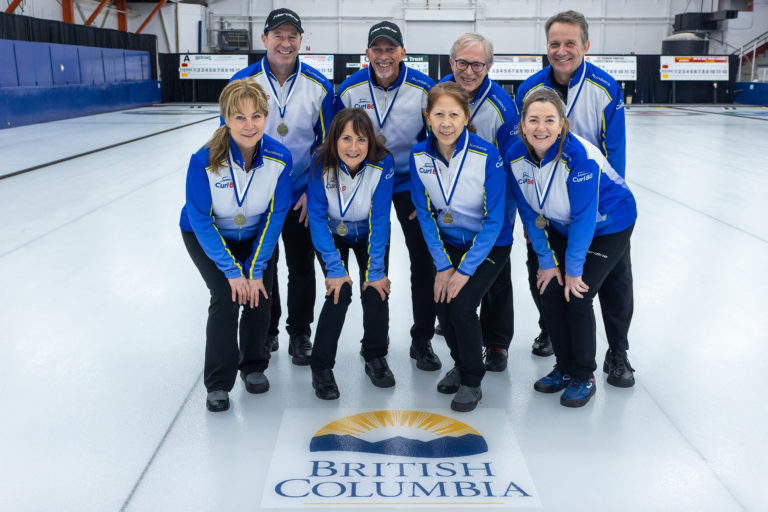 Just like that, it came down to two men's teams and two women's teams at the 2023 Connect Hearing BC Masters Curling Championships in Parksville, BC.
Team Shantz (Qualicum, Parksville, Penticton) had a chance to rest up before this women's final, having qualified for this game on Thursday afternoon. Despite qualifying through the B-Event for playoffs on Friday morning, Team Mychaluk (Royal City, Langley) did not get the luxury of downtime having played in the semi-final on Saturday afternoon. However, they did get a few more games under their belt that might get them more comfortable on the ice at the Parksville Curling Club. These teams faced each other previously in the event, with Team Shantz taking that win 7-2.
The game was very close, and in team Michalak's favour early on in the 3rd end where Penny Shantz, to save the game had to draw against 4 points. Later in the game, Shantz broke it open with a 4 point end in the 7th end.
With a final score of 10-5, Team Shantz defended her title and won the gold medal and the title of the 2023 Connect Hearing BC Women's Masters Champion.
Just a couple of sheets over, the men's final was also being played between Team Van Yzerloo (Castlegar) and Team Sieg. Team Van Yzerloo and Team Sieg had already faced each other once in the Page 1-2 playoff game where Van Yzleroo won in an extra end. Team Van Yzerloo, the Kootenay Express, was the best hitting team in the event and had a great strategy to tailor to their strengths. Sieg knew in the finals he would have to play more aggressive to get a miss out of the hard hitting Kootenay team.
The Finals was very close, Lyle Sieg had a draw against 4 to the pin to save the-game in the 3rd end. Coming into the last end Sieg was up 3 points and managed to run Van Yzerloo out of rocks. This gave Team Sieg a 5-2 victory and were crowned as the 2023 Connect Hearing BC Men's Masters Champions.
Team Shantz and Team Sieg will represent Team BC at the 2023 Canadian Masters Curling Championships from April 2-9, 2023. This championship will take place at the Thistle-St. Andrews Curling Club in Saint John, New Brunswick.
Congratulations to all of the week's competitors and medallists.
WOMEN'S
Gold – Team Shantz, Parksville Curling Club
Skip: Penny Shantz
Third: Cindy Curtain
Second: Shirley Wong
Lead: Janet Suter
Silver – Team Mychaluk, Royal City +Langley Curling club
Skip: Donna Mychaluk
Third: Danielle Shaughnessy
Second: Victoria Murphy
Lead: Nancy Stagg
Bronze – Team Shearer, Parksville
Skip: Leslie Shearer
Third: Susan Chepil
Second: Peggy Aikman
Lead: Carol Dorman
MEN'S
Gold – Team Sieg, Cloverdale Curling Club
Skip: Lyle Sieg
Third: Brett Kury
Second: Doug O'Byrne
Lead: Fred Cleutinx
Silver – Team Van Yzerloo, Castlegar Curling Club
Skip: Bill VanYzerloo
Third: Myron Nichol
Second: Garry Beaudry
Lead: Richard Faunt
Bronze – Team Sulz, Parksville Curling Club
Skip: Dr. Carey Sulz
Third: Rick Dunn
Second: Tom Freeman
Lead: Bob Hirschfield
Thank you to all of the volunteers, officials, timers, and fans who took the time to support this event. These competitions would not happen without your dedication to the sport. Thank you to the Parksville Curling Club for being incredible hosts.
(Steve Seixeiro Photo)
Subscribe to our newsletter
Receive the latest news updates, tournaments, programs, services and discounts.