2023 Canada West U SPORTS Curling Championships Day Three Recap
February 27, 2023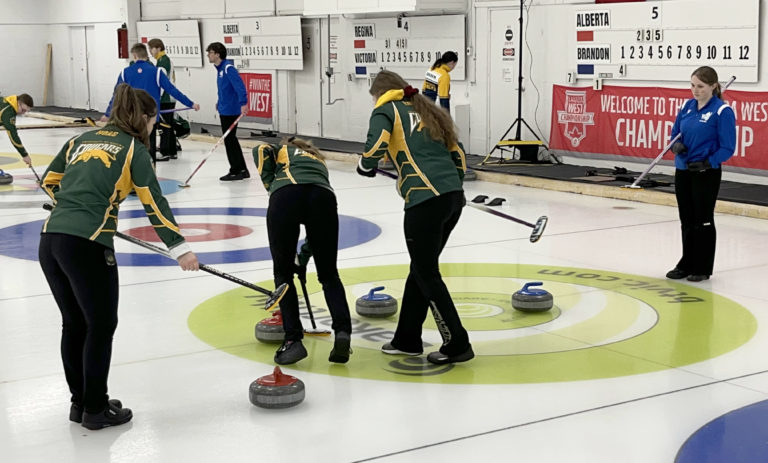 VICTORIA – The Alberta Golden Bears claimed their fourth-straight conference banner while the host Victoria VIkes captured the women's title to become Canada West champions on the final day of action at the Canada West Curling Championships, Feb. 26, at the Victoria Curling Club.
The Alberta Golden Bears knew their chance to defend their title from 2022 was on the line on the men's side. The Regina Cougars would not let them take the game easily, and in the end it was the Golden Bears remaining undefeated with a 7-5 victory.
In other men's action, the Calgary Dinos looked to close their weekend on a high note against the Victoria Vikes. When the rocks came to a stop, it was the Dinos with a 13-2 win in their last game.
The women's games saw the Alberta Golden Bears taking on the Regina Cougars. A 6-3 win for the Pandas secured a silver-medal finish for Alberta. A tight race to the finish in the Dinos versus Vikes matchup one sheet over, the Vikes edged Calgary, 7-6, to finish the weekend 4-0.
The Golden Bears and Dinos on the men's side and Vikes and Pandas on the women's side have earned appearances to the U SPORTS Curling Championships, March 15-19, at Laurentian University.
CANADA WEST ALL-STARS
Men's
Lead – Gabriel Dyck, Alberta
Second – Michael Keenan, Calgary
Third – Desmond Young, Alberta
Skip – Kenan Wipf, Calgary
Women's
Lead – Kate Ector, Calgary
Second – Chantel Hoag, Regina
Third – Talor Stermick, Regina
Skip – Kayla Wilson, Victoria
COACH OF THE YEAR
Men's – Cody Hall, Victoria
Women's – Tom Hamon, Regina
FINAL STANDINGS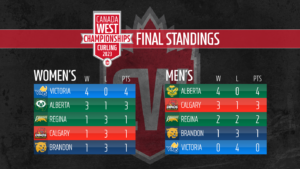 Subscribe to our newsletter
Receive the latest news updates, tournaments, programs, services and discounts.