2023 Canada West U SPORTS Curling Championships Day One Recap
February 25, 2023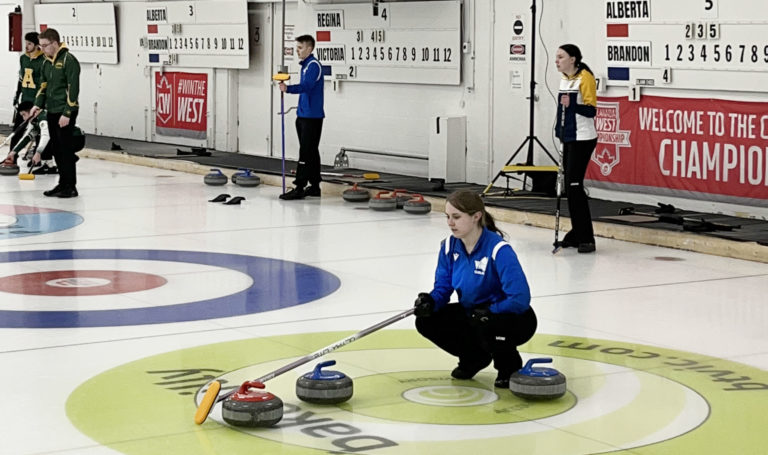 Teams hit the ice in Victoria, British Columbia this afternoon to kick off the 2023 Canada West Curling Championships. Men's and women's teams from the University of Alberta (Golden Bears/Pandas), Brandon University (Bobcats), University of Calgary (Dinos), University of Regina (Cougars) and University of Victoria (Vikes) are looking to earn their spot at the 2023 U SPORTS/Curling Canada University Championships in Sudbury, Ontario.
On the men's side, the Alberta Golden Bears started their journey against the Brandon Bobcats. The Alberta Golden Bears, skipped by former BC resident Johnson Tao, were coming off their debut at the Alberta Boston Pizza Cup a couple of weeks prior. Brandon worked through some opening game jitters to settle down and find their groove. The Golden Bears showed no signs of a slow start, winning the game 7-3.
Right next to them were the Regina Cougars and the Victoria Vikes. Regina showed a good grasp of the ice conditions and continued to press their advantage. The Vikes were on the ice together for their first time this season looking to use their home field advantage to the fullest. A couple of unforced errors for the recently formed Vikes team, allowed Regina to start off on the right foot, clinching their first W of the weekend, 8-1.
The same matchups were mirrored on the women's side of the competition with the Alberta Pandas looking for a strong start against the Brandon Bobcats. The Pandas showed they were ready to go this weekend with a big 11-2 win. The Regina Cougars started their journey back to the victor's banner against the Victoria Vikes. The Vikes brought an experienced team to the table, including Meredith Cole and Mahra Harris who recently clinched the 2023 BC Junior title. Skip Kayla Wilson returns to lead the team with Gabby Brissette & Elizabeth Bowles having a strong opening round as the front end. When the dust settled, the 8-3 score favored the hometown Vikes.
This event is supported in part by grants from VIASport, the Province of British Columbia and Hosting BC.
Subscribe to our newsletter
Receive the latest news updates, tournaments, programs, services and discounts.