2023 BC U21 Championships start off with a bang
January 26, 2023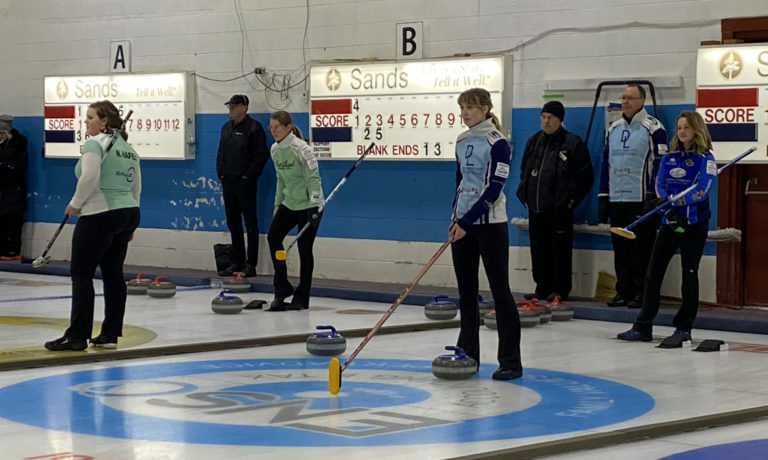 The 2023 BC U21 Championships began at the Duncan Curling Club this morning, and the day saw plenty of hard-hitting action and scrappy play.
In the men's first draw, at 9:00am, Teams Nolan Blaeser and Calder Fadden battled it out for tie over the first three ends, but then Beck put their foot to the gas in the fourth and held the lead from there on, finishing with an 8-4 victory.
Meanwhile, Teams Adam Fenton and Thomas Reed met in a match which saw Fenton quickly amass points, as well as an insurmountable lead. Although Reed managed to get one point on the board in the seventh, It wasn't nearly enough to stem the tide and Fenton took the game 9-1.
Over on the women's side, the first draw saw a nail-biter between Teams Elizabeth Bowles and Kaelen Coles-Lyster. While Coles-Lyster earned one point in the first, Bowles managed to rack up four by the end of the fifth. Not to be outdone, Coles-Lyster tied it up by the eighth. One more point by each team in the next two end tied things up once again, forcing an extra end, in which Bowles made the winning point and finally took the game 6-5.
The women's first draw also saw a tilt between Teams Keelie Duncan and Bryelle Wong. Duncan Put three on the board in the third and kept the pressure on for the rest of the game, eventually winning 9-4.
Draw two, at 2:00pm, saw just one gouting for the men, between teams Reed and Fadden. The game saw Fadden start off with a lead in the first and keeping the pressure on and racking up insurance points. In the end, it was an 8-3 Fadden victory that ended in handshake in the eighth..
The women's side of draw two saw the tables turn in a couple of really thrilling games. First Team Elizabeth Bowles made a stunning come-from behind victory with a four-point tenth end, dispatching Team Holly Hafeli 7-6; then Team Emily Bowles battled their way back from a three-point deficit in the fifth to emerge victorious over Team Duncan, 6-5, in an extra end.
Subscribe to our newsletter
Receive the latest news updates, tournaments, programs, services and discounts.