2023 BC U18 Curling Championships Sportsmanship and Coaching Awards
December 30, 2022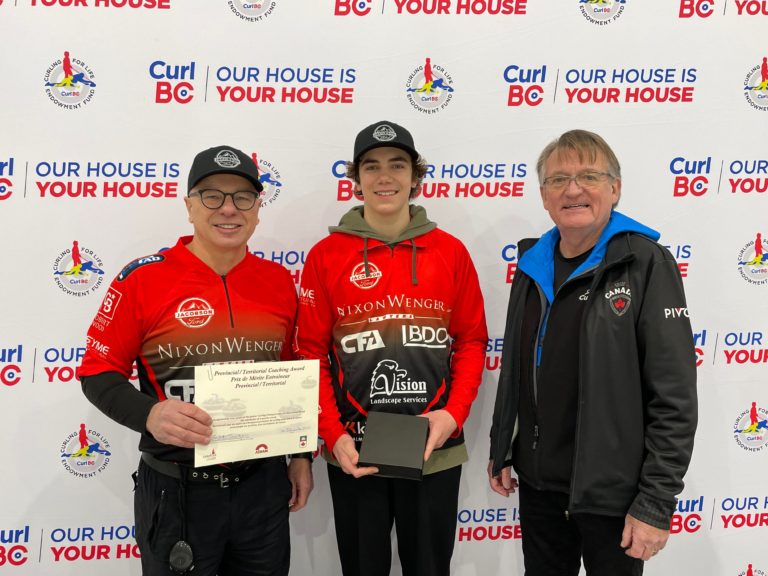 One of the best parts of curling is the community it builds on and off the ice. Sportsmanship and great coaching are two important aspects of fostering this community. Each year, sportsman-like players and standout coaches are recognized by their peers for the Sportsmanship and Coaching awards. For the 2023 BC U18 Curling Championships, the awards were presented ahead of the Friday afternoon game.
This year, the players recognized Erin Fitzgibbon, lead for Team Wong, and Kaiden Beck, third for Team Blaeser, for the U18 Sportsmanship Awards.
Len Chong of Team Wong and Dale Hofer of Team Blaeser were recognized by their fellow coaches for the U18 Provincial Coaching Awards. All participating coaches have the responsibility of choosing an opposing team coach who best exemplifies the attributes of coaching for the Provincial/Territorial Coaching Award.
Coaches are tasked with selecting the coach they feel does the following throughout the championship on and off the ice.
Demonstrating respect for officials, opponents, host committee and curling associations.
Demonstrating a philosophy of fair play, good sportsmanship and attitudes that reflect the coaching code of ethics.
Demonstrating concern for all-round development of the athlete and instilling guidelines reflecting responsible conduct beyond the curling rink.
Presenting, through example, a positive image of coaching.
Demonstrating ability to improve the athletic performance of a team or athlete.
Demonstrating ability to apply athlete development and coaching techniques as outlined in the National Coaching Certification Program.
The award is Sponsored by Asham Curling Supplies at the U18 and U21 levels.
Congratulations to the winners and thank you to all of the players and coaches for being continuous role models and community members.
The Richmond Curling Centre was also recognized for their incredible hosting efforts this week.
Subscribe to our newsletter
Receive the latest news updates, tournaments, programs, services and discounts.