2023 BC U18 Curling Championships Draw 8 Recap
December 31, 2022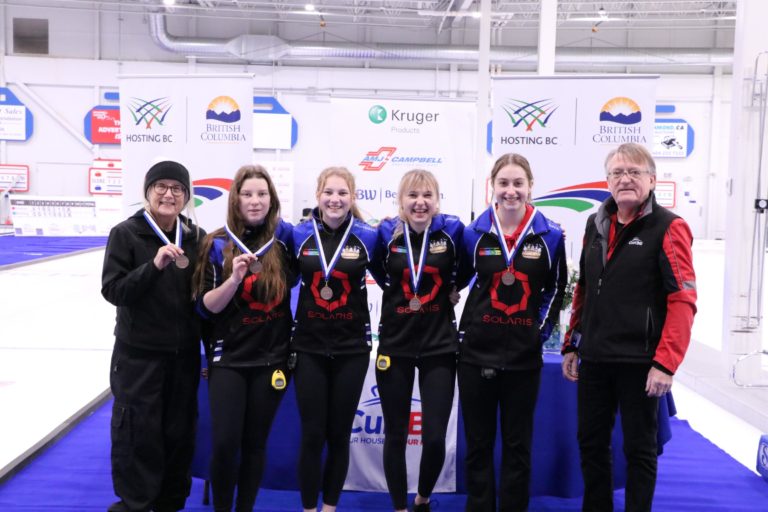 The girls' playoffs started with a semi-final that commenced at 9:00AM PST with a trip to the final of the 2023 BC U18 Curling Championships on the line. The B-Qualifier, Team Duncan representing the Comox, Duncan, Port Moody and Vancouver Clubs), and the C-Qualifier, Team Manning who all hail from Penticton under the guidance this week of guest coach Karen Lepine. With both teams looking to clinch a spot in the final. The winner of this game will advance to the 2023 National U18 Championships due to BC qualifying 2 team of each gender. These teams played each other in the B Final of the event, with Team Duncan winning that game 6-2 thanks to steals in the 4th, 6th, 7th and 8th ends.
Team Duncan earned the hammer in the first end thanks to being the B qualifier. The team made good use of the advantage by scoring a 4 ender in the first end and took clear control of the came with a steal of 1 in the 2nd. Team Manning had the opportunity for a deuce in the 3rd however they unfortunately rolled out and were forced to one. heading into the break Team Manning was able to steal one to make the score 4-2 for Team Duncan with hammer. The lead was stretched to 6 with a score of 3 in 5. Team Manning kept themselves in the with solid shot making and were able to score 2 in the 7th end to pull with 5 going into the 8th and final end. With a final score of 9-4, Team Duncan moves on to the championship final for the BC title at 2:00pm today against Team Hafeli from Kamloops Curling Club. Both finalists have  secured their spot at the Canadian U18 Nationals in Timmins, Ontario from February 5-11, 2023.
Congratulations to Team Manning for a strong week, finishing with a bronze medal.
A big thank you to the organizing committee and Richmond Curling Centre staff and board of directors. The week would not be what it is without you.
Catch the action live on the Curl BC YouTube page: Curl BC – YouTube.
This BC Championship is funded in part by a grant from viaSport BC and the Province of British Columbia through the Hosting BC program.
Subscribe to our newsletter
Receive the latest news updates, tournaments, programs, services and discounts.