2023 BC U18 Curling Championships Draw 6 Recap
December 30, 2022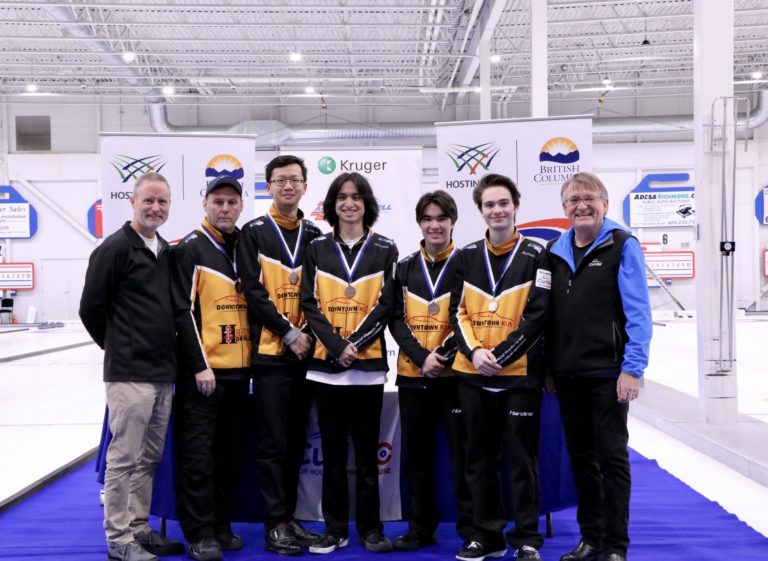 The boys' playoffs started with a semi-final during Draw 6 of the 2023 BC U18 Curling Championships. The B-Qualifier, Team Blaeser (Vernon, Salmon Arm), and the C-Qualifier, Team McKenzie (Vancouver, Delta Thistle), aimed to claim the remaining spot in the final. These teams played each other in the opening draw of the event, with Team Blaeser taking that game.
Team Blaeser scored a deuce heading into the break to maintain the lead. However, Team McKenzie kept themselves in the game with some tactful shot making. With a final score of 6-4, Team Blaeser moves on to the championship final for the BC title at 7:00pm tonight against Team Tam (Port Moody, Salmon Arm). They have also secured their spot at the Canadian U18 Nationals in Timmins, Ontario from February 5-11, 2023.
Congratulations to Team McKenzie for a strong week, finishing with a bronze medal.
The C Event continued on the girls' side with Team Arndt (Vernon, Kamloops) and Team Wong (Royal City, Vancouver) vying for the remaining spot in the C-Qualifier game later today. These two teams met each other in the A Event earlier this week, with Team Wong winning that matchup.
Team Wong kept the wins going with a hit and stick for four in the 7th end, leading to a final score of 8-3. Team Wong will move on to the C-Qualifier game against Team Manning (Penticton) at 7:00pm tonight.
Alongside these two games, Team Hafeli (Kamloops) and Team Tam (Port Moody, Salmon Arm) were out for some afternoon practice ahead of the championship finals.
A big thank you to all of the volunteers that make these events run. The week would not be what it is without you.
Catch the action live on the Curl BC YouTube page: Curl BC – YouTube.
This BC Championship is funded in part by a grant from viaSport BC and the Province of British Columbia through the Hosting BC program.
Subscribe to our newsletter
Receive the latest news updates, tournaments, programs, services and discounts.