2023 BC Scotties final sees Team Grandy victorious after eleven suspenseful ends
January 15, 2023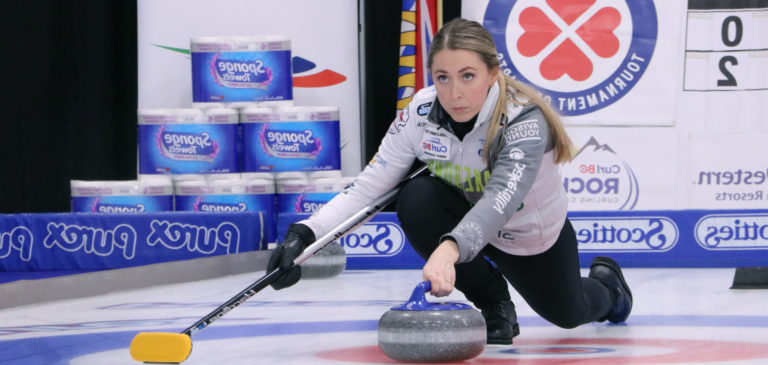 It's Championship Sunday here in Chilliwack for the final four teams at the 2023 BC Men's and BC Scotties Women's Curling Championships.
Up first this morning were Team Brown (Kamloops, Penticton) and Team Grandy (Vancouver). With both of their previous meetings being high-scoring affairs, fans knew they were in for a treat.
Team Brown struggled in the first two ends, allowing Team Grandy to steal three points. However, similar to the Page 1v2 game, Team Brown found a way to bounce back and score five points in the third end to go up 5-3. Team Grandy was forced to one point in the fourth end and posted another steal in the fifth end to head into the break in a tied game.
At the beginning of the second half, Team Grandy was slightly outplaying Team Brown, who was forced to one in the sixth end. Team Grandy used a clean seventh end to secure a deuce to go up 7-6. It was a short-lived lead, with Team Brown making a precise tap back to get a deuce right back. In the ninth end, Team Grandy was able to get their two points to put them up by a point heading into the last end. Team Brown, being down 8-9, played a careful tenth end. They used their time out to call on the expertise of their coach, Jim Cotter. With a couple key misses, Team Brown was left with a shot for the single to trigger the extra end.
After a quick break, the teams were back on the ice for the extra end. It wasn't clear who the winner was until Team Brown threw their last rock. The rock didn't quite curl enough, and Team Grandy was sitting the one they needed to win the game and the 2023 BC Scotties Women's title.
Team Grandy will go on to represent Team BC at the 2023 Scotties Tournament of Hearts Curling Championships in Kamloops, BC. The tournament takes place from February 17-26, 2023.
Big shoutout to all the competitors this week.
GOLD – Team Grandy (Vancouver)
Skip: Clancy Grandy
Third: Kayla MacMillan
Second: Lindsay Dubue
Lead: Sarah Loken
Coach: Katie Witt
SILVER – Team Brown (Kamloops, Penticton)
Skip: Corryn Brown
Third: Erin Pincott
Second: Dezaray Hawes
Lead: Samantha Fisher
Coach: Jim Cotter
BRONZE – Team Reese-Hansen (Victoria, Kamloops)
Skip: Taylor Reese-Hansen
Third: Megan McGillivray
Second: Cierra Fisher
Lead: Sydney Brilz
Fifth: Dailene Pewarchuk
Coach: Todd Troyer
The weekend isn't over yet – the BC Men's title is still up for grabs at 2:00pm today. Team Pierce (Royal City) will be looking to defend their title against first-time men's finalists Team Gauthier (Victoria). With multiple world champions on the ice, there will be no shortage of great shot making.
Catch all of the action liveon www.youtube.com/@CurlBCTV/streams, on CHEK TV , or cbcsports.ca at https://www.cbc.ca/player/play/2158834243867.
This event is supported in part by grants from the Province of British Columbia, Hosting BC, Tourism BC, and viaSport BC.
Subscribe to our newsletter
Receive the latest news updates, tournaments, programs, services and discounts.