2023 BC Club Curling Championships, Presented by Original 16—Day Three Recap
March 31, 2023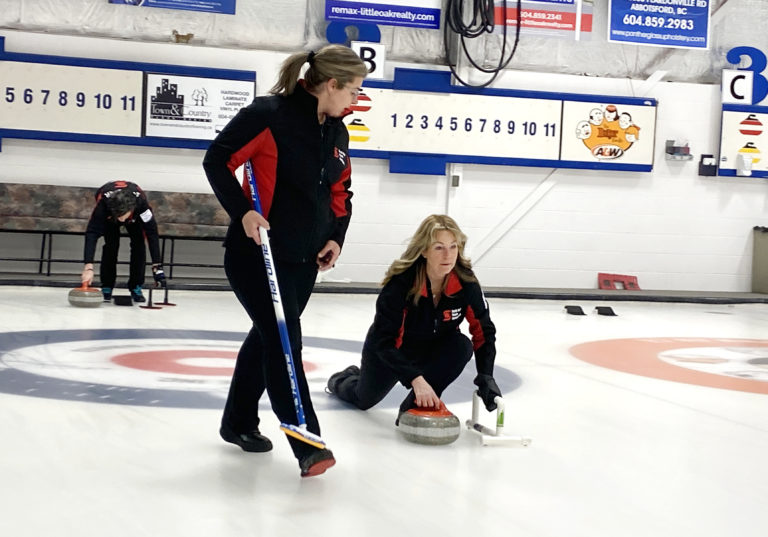 The women's competition finally got on the ice at Thursday afternoon in Draw Four at the 2023 BC Men's and Women's Curling Club Championships.
Team Hannah (Golden Ears) started their competition against Team Sandwith-Craig (Duncan). For Team Sandwith-Craig, it was a deuce in the seventh end that would be the difference for them. They would win the game 5-4.
On the ice with them were Team Shantz (Qualicum) and Team Winters (Nelson). In similar fashion, it was a deuce that sealed the 5-4 win for Team Shantz.
In Draw Five the men were back on the ice, with a lot of eyes on the A-Qualifier game featuring Team Orme (Vernon) and Team Johnston (Royal City). The game was close most of the way, but Team Johnston got themselves into a sticky situation in the eighth end, giving up a steal of two. Team Orme would win the game 9-5 and the top qualifier spot for the playoffs.
From the B-Event, Team Gagnon (Abbotsford) and Team Komlodi (Victoria) got themselves into a low-scoring matchup with only singles on the scoreboard. However, Team Komlodi was able to score a few more of those singles than their opponent, nabbing them a 4-1 win.
Team Small (Nelson) was taking on Team Guignard (Vancouver) right next to them. This game was tied headed into the final end, and Team Guignard was able to steal the single point they needed to take the win, 7-6.
Team Guanzon (Marpole) and Team Wright (Kelowna) were playing in the remaining B-Event game on the ice. Team Wright came through with a strong performance, winning the game 8-2.
One C-Event game was also on the ice with both teams knowing a loss would eliminate them from contention. Team Watson (Chilliwack) came out strong with a three in the opening end. Team Craig tried to fight their way back into it with a couple of steals, but Team Watson cracked it open with a score of four in the fifth end. Team Watson would win the game 8-5.
A big congratulations to Nathan Small of the Nelson Curling Club for winning the sportsmanship award, by vote from his peers.
Check the live scores and schedule here: Men, Women
Watch the feature game live on Curl BC's YouTube channel: Curl BC – YouTube
This event is supported in part by grants from the Province of British Columbia and Hosting BC.
Subscribe to our newsletter
Receive the latest news updates, tournaments, programs, services and discounts.