2023 BC Men's and Women's Curling Club Championships, Presented by Original 16 – Day One Recap
March 29, 2023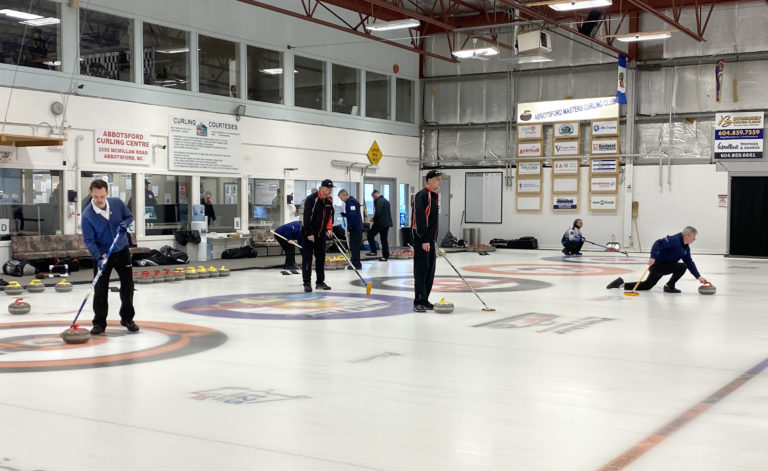 Tuesday saw the kickoff of the 2023 BC Men's Curling Club Championships, Presented by Original 16, at the Abbotsford Curling Club with thirteen teams vying for the BC title. This triple knockout bracket started with five games between some of BC's best club curlers.
Team Orme (Vernon) met with the local rink, Team Gagnon (Abbotsford), in their opening match. Team Orme held their opponent to singles, securing an 8-2 win. They will face Team Masuch (Mission) during Draw 2 at 10:00am on Wednesday.
Team Guanzon (Marpole) had their first game against Team Craig (Kerry Park). Team Craig opened up the game by stealing two points, which put the game's momentum in their hands. After steals in the fifth and sixth ends, it was handshakes for Team Guanzon. Team Craig would take the win 7-1.
Right beside them, Team Watson (Chilliwack) was taking on Team Guignard (Vancouver). Team Guignard fought their way back into the game with a score of three to tie it up in the seventh end and sealed the 5-4 win with a steal of one.
Team Guignard and Team Craig will meet in their next game of the A-Event. Team Guanzon and Team Watson will fall to the B-Event and play each other. These games will happen during Draw 2.
Team Wright (Kelowna) and Team Small (Nelson) were facing off for a chance to play Team Johnston (Royal City), who had the bye in the first draw. It was a couple of deuces that made the difference in this game for Team Wright as they took the win 6-2. Their game against Team Johnston will also take place during Draw 2.
In the last game on the ice, Team Frycz (Langley) and Team Gomes (Richmond) vied for a Draw 2 match against Team Komlodi (Victoria), who had the bye in Draw 1. Team Frycz started strong with a steal of two, but it was all Team Gomes after that. Team Gomes would go on to score eight unanswered points in six ends to prompt handshakes from Team Frycz. Final score was 8-2.
The women's competition will kick off on Thursday.
Check the live scores and schedule here: Men's, Women's
This event is supported in part by grants from the Province of British Columbia and Hosting BC.
Subscribe to our newsletter
Receive the latest news updates, tournaments, programs, services and discounts.