2023 BC Men's and Scotties Women's Championship Banquet hits all the right notes
January 11, 2023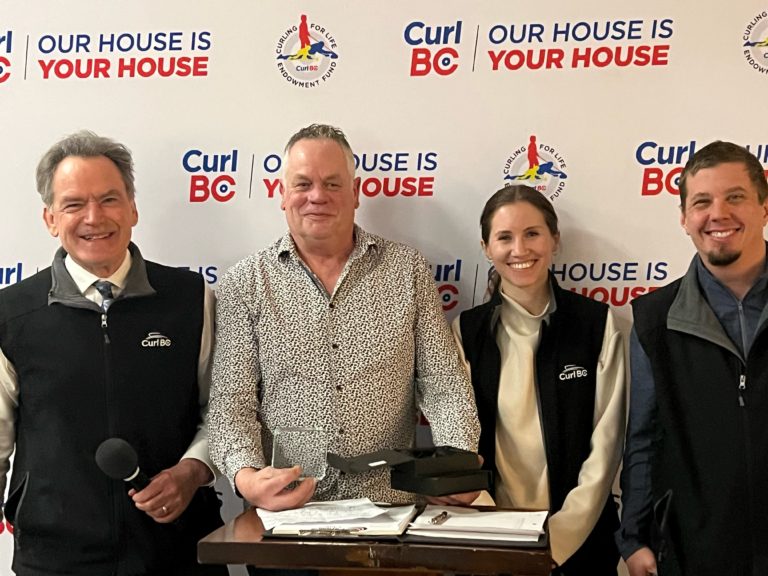 There's no better way to welcome BC curling to Chilliwack than an opening banquet, and the Chilliwack Curling Club showed they know how to host a great one.
Teams were treated to a delicious dinner accompanied by scrumptious desserts, and even better company. Live music played in the background while competitors socialized at the first BC Men's and Scotties Women's banquet since 2019.
During the evening, a warm welcome was given by MC Wayne McAlpine to all.
Chief Umpire, Henry Wong, was invited to the podium to ensure teams were ready to go with the rules of the tournament and fair play in mind. He recognized his deputy umpires Derek Smith and Richard Huebner, as well as all the timers and supervisors for stepping up into pivotal roles at the event.
Andrew Benson, Governor on the Curl BC Board of Directors, took a brief moment to recognize the importance of sportsmanship throughout the competition. With that in mind, he reminded the competitors to nominate their fellow curlers for the sportsmanship award, which will be awarded later this week.
As important as rules and sportsmanship are, Scott Braley, CEO of Curl BC, emphasized the importance of the people who elevate championships such as these to be the best they can be. A big thank you to Mike Merklinger and his crew for crafting championship ice, Roll.Focus. Productions for their commitment to high quality livestreams of the competition, and CHEK TV and CBC for their support in feeding the livestreams to the fans. Additional kudos were given to Melissa Soligo and John Cullen in advance of their livestream commentary, which starts on the weekend. As always, long time sponsors Best Western and Kruger Products are instrumental to making curling in BC great.
In addition, Scott Braley, alongside Curl BC Board of Directors Governors Andrew Benson and Morgan Lypka, presented a hosting plaque to event chair, Bruce Renwick. This came with many thanks to the Chilliwack Curling Club for being a wonderful host for both the men's and women's competitions this week.
Dan Coulter, MLA for Chilliwack, echoed this sentiment with his gratitude for having the Chilliwack Curling Club as not only a great host for this event, but for many other community gatherings throughout the year – 83 holiday events over the month of December alone.
Lastly, President of the Chilliwack Curling Club, Terry Cross, closed the banquet speeches with a big congratulations to the competitors for qualifying for the event and appreciation for everyone involved, including local sponsors MNP, Save On Foods, Precision Pumps, Prime Signs, Chilliwack Ford, Riverstone Excavating, Baker Newby LLP, and Investors Group.
This event is supported in part by grants from the Province of British Columbia, Hosting BC, Tourism BC, and viaSport BC.
Photo: Host committee chair Bruce Renwick receives a commemorative hosting plaque from Curl BC CEO Scott Braley and Curl BC governors Morgan Lypka and Andrew Benson.
Subscribe to our newsletter
Receive the latest news updates, tournaments, programs, services and discounts.