2023 AMJ Campbell BC Mixed Curling Championships Day One Recap
March 03, 2023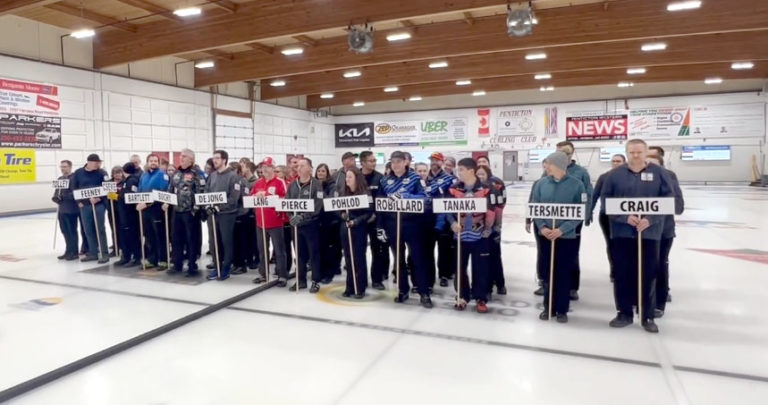 Draw One
The 2023 AMJ Campbell BC Mixed Curling Championships kicked off this afternoon in Penticton, BC with ten out of thirteen teams hitting this ice. This championship is a triple knockout format, leading to a page playoff.
The first matchup saw Team Pierce (Royal City, Winfield) taking on Team de Jong (Victoria). Skips Brent Pierce and Cameron de Jong are no strangers to each other, having most recently played against each other at the 2023 BC Men's Championships. Their mixed squads both brought plenty of experience, but it was Team de Jong pulling through by a score of 6-1.
The next game on the ice featured the local squad, Team Feeney (Penticton), taking on Team Bartlett (Grand Forks, Victoria). Team Feeney used their home ice advantage and they moved on through the A-Event with a score of 6-5.
Taking the ice next to them was Team Tanaka (Richmond, Royal City) and Team Cseke (Kelowna). Team Tanaka is full of familiar names with all players having participated in the 2023 BC Men's and Scotties in January. In this mixed championship, it was Team Tanaka winning 7-6. They're set to face another local team, Team Tolley (Penticton), in the next draw.
Returning Team Lang (Vancouver, Richmond) opened their event against Team Robillard (Royal City, Abbotsford, Nelson). Team Robillard features 2019 BC Scotties and 2022 BC Mixed Doubles champion Sarah Wark at third. This game went to Team Robillard by a score of 8-2. Team Robillard will take on Team Buchy (Kimberley) next draw.
Team Cseke falls to the B-Event along with Team Lang. They will take each other on in the next draw.
The last game on the ice had Team Tersmette (Kimberley, Cranbrook, Campbell River) hitting the ice against Team Pohlod (Royal City, Tunnel Town). Another game filled with perennial BC Men's and Scotties participants made for a great match. Team Tersmette showed they were ready for the weekend clinching their first W, 4-3. They will be taking on 2022 BC Mixed Champions, Team Craig (Victoria, Duncan) in the next draw.
Draw Two
The remaining three teams took the ice in their first games of the 2023 AMJ Campbell BC Mixed Curling Championships.
One of these teams was last year's champions, Team Craig (Victoria, Duncan). They would open their weekend against Team Tersmette. Team Craig moved along in the A-Event, taking the win 4-3.
Team Tolley (Penticton) was also making their debut against Team Tanaka. In this evening draw, Team Tanaka found their groove and moved on with a score of 7-4.
The last team making their debut was Team Buchy (Kimberley). Team Robillard looked to trip up Team Buchy in their start, with a win under their belt already. The team from Royal City, Abbotsford and Nelson pushed through to stay in the A-Event with a strong 7-3 win.
The remaining A-Event game featured two teams who already played a game in the opening draw: Team de Jong and Team Feeney. Both teams wanted to keep posting wins in the standings, but in the end Team de Jong took the game 9-3.
The A-Event semifinals will be played at 10:00am tomorrow morning. They will feature Team Craig versus Team de Jong, and Team Tanaka versus Team Robillard.
There was also one lone B-Event game on the ice this draw between Team Cseke and Team Lang. Both teams were hungry for their first win, but it was Team Lang who had that craving satisfied.
Watch the games live online at youtube.com/@CurlBCTV/streams or follow the scores here.
This event is supported in part by grants from the Province of British Columbia and Hosting BC.
Subscribe to our newsletter
Receive the latest news updates, tournaments, programs, services and discounts.