2022 Seniors Championship hits the ice in Langley this week
March 20, 2023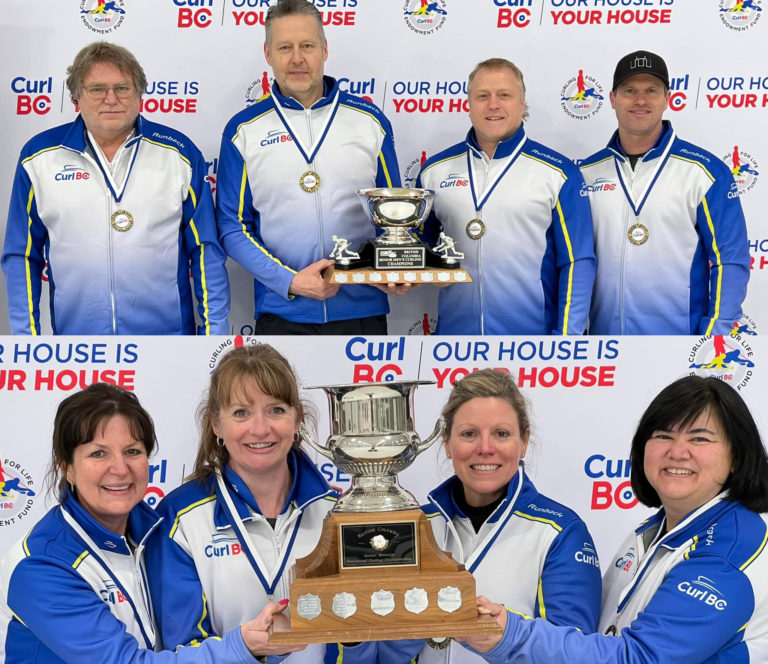 There'll be some great curlint in Langley this week, as the Langley Curling Centre hosts the 2023 BC Senior Curling Championships. The action will take place from March 21st to 26th, and feature eighteen men's and nine women's teams competing for their respective titles and the right to be Team BC at the 2023 Canadian Senior Championships (December 4th-10th at the Vernon Curling Club, featuring representatives from Canada's 14 member associations).
In all, the competition will take place over eighteen draws, with the final gold medal games taking place on Sunday, March 26th at 2:00pm. Both events feature a Triple Knock Out preliminary round format. The Women's will play a 4 teams page playoff format while the men will be qualifying for a six-team modified page playoff format.
For Men's live scoring, Click here
For Women's live scoring, Click here
Behind the scenes, this event was made possible by a talented and dedicated host committee headed up by Nick Douce and Wayne Moore, club manager Robyn Parkes, head icemaker Nick Meister and his team, head umpire Troy Matsumiya, and an army of timers, umpires, score updaters and live-streaming assistants.
Spectators, friends and family are encouraged to pop by the Langley Curling Centre to enjoy the action live. This facility features The Horse and Ryder Pub, Langley's home for live sports, amazing comfort food, and BC craft brew that just happens to overlook the curling club ice shed.
The 2022 BC Seniors Men's Championship was won by Team Craig from Nanaimo Curling Centre featuring Skip: Wes Craig, Third: Steve Waatainen, Second: Keith Clarke and Lead: Craig Burton
Men's teams competing for the 2023 are as follows:
TEAM BUCHY (Kimberley, Kelowna, Castlegar) Tom Buchy, skip; Dave Stephenson, third; Dave Toffolo, second; Deane Horning, lead
TEAM CRAIG (Duncan, Nanaimo, Comox) Wes Craig, skip; Norm Cote, third; Keith Clarke, second; Craig Burton, lead
TEAM FRYCZ (Langley) Darren Frycz, skip; Wayne Moore, third; Jody Fox, second; Brent Selby, lead
TEAM GREENLAW (Osoyoos, Marple, Vancouver, Duncan) KIp Greenlaw, skip; Ian Baart. Third; Olivier Eymere, second; Drew Carmichael, lead
TEAM IHLEN (McArthur Island/Kamloops) Kevin Ihlen, skip; Chris Beatty, second; Joe Picton, third; Paul Bregoliss, lead; Kerry Bonderud, alternate
TEAM KOYANAGI (Royal City) Dean Koyanagi, skip; Brent Pierce, third; Bryan Miki, second; Darin Fenton, lead
TEAM LEIGHTON (Chilliwack) Todd Leighton, skip; Kevin Britz, third; Ken Britz, second; Keith Britz, lead; Glenn Royea, alternate
TEAM LEPINE (Langley, Vancouver) Craig Lepine, skip; Richard Brower, third; Deryk Brower, second; Mike Pelech, lead
TEAM LONGWORTH (Vernon) Mark Longworth, skip; Dean Mackney, third; Greg Hamilton, second; Sean Worth, lead
TEAM McARDLE (Royal City) Ken McArdle, skip; Dean Geiger, third; Darin Laface, second; Gerard Murphy, lead
TEAM NICHOL (Castlegar, Fruitvale, Grand Forks, Nelson) Myron Nichol, skip; Devo Devine, third; Kevin Maffioli, second; Roger May, lead
TEAM O'DRISCOLL (Royal City) Frank O'Driscoll, skip; Tony Zidar, third; Blake Fizzard, second; Doug Duffin, lead
TEAM RICHARDS (Quesnel) Tim Richards, skip; Mike Pagurut, third; Shayne Yamamoto, second; Dave Needham, lead
TEAM SCHELLEKENS (Langley) Darren Schellekens, skip; Norm Eberts, third; Rob Lafreniere, second; Dave Buchanan, lead
TEAM STRATHDEE (Penticton, Abbotsford) Stephen Strathdee, skip; Ian Trip, third; Don Davis, second; Chris Wate, lead
TEAM SUTTON (Victoria) Neil Dangerfield, skip; Denis Sutton, third; Darren Boden, second; Bob Coulombe, lead
TEAM WOOD (Victoria) Mike Wood, skip; Glen Allen, third; Troy Ziegler, second; Ryan Landa, lead
TEAM WRIGHT (Kelowna/Comox) Steve Wright, skip; Ron Schmidt, third; Gary Brucker, second; Shaun Everest, lead
The 2022 BC Seniors was won by Team Andrews from Golden Ears/ Langley Curling Centre. The team included: Skip: Leanne Andrews, Third: Jenn Routliffe, Second: Tracy Strecker and Lead: Cathy Chapman.  The women's teams competing for the 2023 title are as follows:
TEAM ANDREWS (Langley) Leanne Andrews, skip; Jenn Routliffe, third; Tracy Strecker, second; Cathy Chapman, lead
TEAM ARSENAULT (Vernon, Parksville) Mary-Anne Arsenault, skip; Penny Shantz, third; Kim Slattery, second; Lisa Stephenson, third; Cindy Blackmore, alternate
TEAM COWAN (Royal City, Vancouver) Shiella Cowan, skip; Sandra Comadina, third; Stephanie Kask, second; Christine Mathews, lead
TEAM ERNST (Quesnel) Brenda Ernst, skip; Dana Johansen, third; Penni Yamamoto, second; Shari Needham, lead
TEAM FEDORUK (Victoria) Lynn Fedoruk, skip; Dolores Wallace, third; Teresa Lowdon, second; Cheryl Eason, lead
TEAM GUSHULAK (Royal City/Kelowna) Diane Gushulak, skip; Grace MacInnes, third; Danielle Shaughnessy, second; Cory McLaughlin, lead
TEAM MYCHALUK (Langley, Royal City, Parksville) Donna Mychaluk, skip; Victoria Murphy, third; Shirley Wong, second; Janet Suter, lead
TEAM RICHTER (Penticton) Marilou Richter, skip; Cindy Curtain, third; Michelle Pratt; second; Sandy Hobbs, lead
Livestreaming of both events can be found on the Curl BC YouTube channel by clicking here.
Good luck and good curling to all competitors!
Pictured above: 2022 Men's winners Team Wes Craig, and 2022 women's winners Team Leanne Andrews.
Subscribe to our newsletter
Receive the latest news updates, tournaments, programs, services and discounts.