2022 Nufloors Curling Classic brings international excitement to Penticton
November 02, 2022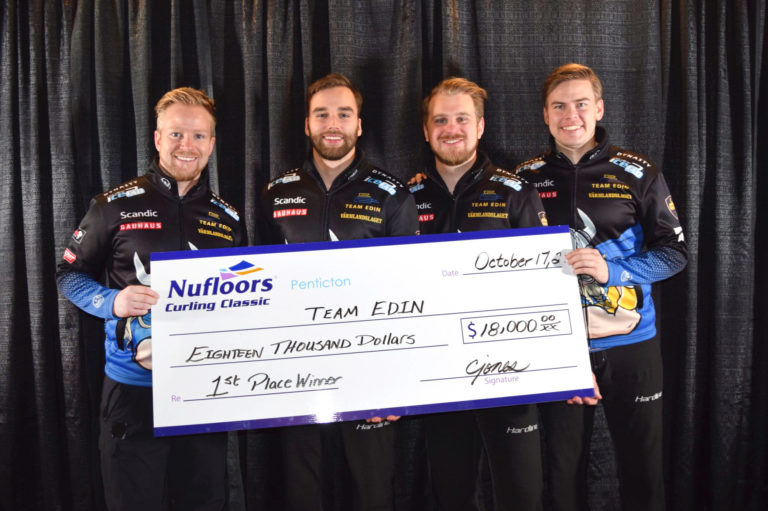 The eyes of curling fans worldwide will be glued on the Okanagan this weekend, as the 2022 Nufloors Penticton Curling Classic gets going at the Penticton Curling Club. Featuring an international selection of high-performance curlers—including Olympic medalists, Brier winners, multiple world champions and numerous top provincial teams—the event is guaranteed to offer some thrilling competition.
Starting this Thursday, November 3rd, and continuing until Monday, November 7th, the Classic will see thirty men's teams vying for the $100,000 purse (the biggest in BC) with a $20,000 first-place prize.
While last year's returning champ, Team Niklas Edin of Sweden—ranked number two in the world—currently stands as the team to beat, there's no lack of hungry challengers. With Team Brendan Boettcher (ranked number four), Team Kevin Koe (ranked sixth), Team Mike McEwen (17th) and Team Glenn Howard (19th) in the mix and on the hunt for gold, it's no secret that it'll be an exciting weekend.
"The idea behind this event," said Nufloors Penticton Curling classic chair Cathy Jones, "is to foster the growth of curling for our men's and junior boy's teams so they learn from the best. We're very excited about bringing all these outstanding teams to BC, and it'll be a great opportunity for our BC curlers to gain valuable experience against the top CTRS ranked teams. It's also a fantastic chance for local curling fans to see the best teams in our province compete against world-class teams!"
Teams will begin spread across five preliminary round-robin pools, with the top team in each pool—along with the seven teams with the next-best record—heading on to the playoffs. Seeding in playoffs is based on the round robin record first and then accumulated draw to the button distance second. During the payoffs the team with better RR record will retain hammer or select rock colour and throwing side for practice.
The event will feature seven rinks from BC, as well as teams from Alberta, Manitoba, Ontario, Saskatchewan, and international teams from the United States, Japan, and Sweden.
A limited number of in-person tickets are available at the Penticton Curling Club, but all six sheets of the Classic will streamed on Curling Live's YouTube channel: https://www.youtube.com/channel/UChjgemdmtiq60tqX9HE8ZNQ
This event is funded, or funded in part, by viaSport BC and the Province of British Columbia.
Subscribe to our newsletter
Receive the latest news updates, tournaments, programs, services and discounts.