2022 Connect Hearing BC Masters brings the action to New Westminster
March 08, 2022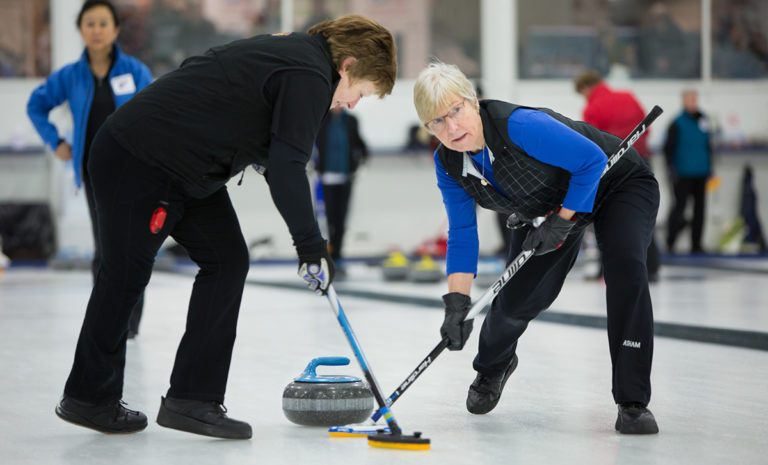 Curling fans in New Westminster are in for a real treat this week, as the 2022 Connect Hearing BC Masters Curling Championships rolls into town. And with 12 men's teams and 9 women's teams, there's to be no shortage of action at the Royal City Curling Club.
With two pools, the men's competition will begin on Wednesday and continue across 8 draws, followed by page playoffs on Saturday and the final championship game on Sunday.
The women's teams will play across 7 draws into the weekend page playoffs. Like the men, they will see their championship game held on Sunday.
The event, for curlers age 60+, has been organized by a dedicated group, including the host committee, led by Marnie Jepsen and Nancy Stagg, as well as Royal City Curling Club manager Mike Munsie, Royal City board liaison Harm Woldring, and an army of officials and volunteers. On the cold side of the glass, chief ice technician Ken McCardle and chief umpire Patti Caldwell will keep things on track and running smoothly.
The women's teams are as follows:
TEAM ERDOS
Skip: Debbie Erdos
Third: Teri Palynchuk
Second: Kilby Howat
Lead: Linda Torgerson
Alternate: Mary Ellen Konyer
Club: Nanaimo
TEAM HOUSE
Skip: Cindy House
Third: Carol McFadden
Second: Ruth Van Vliet
Lead: Monica Hunter
Club: Royal City
TEAM KLEBE
Skip: Janet Klebe
Third: Kerri Miller
Second: Laurie Shimizu
Lead: Donna Christian
Clubs: Chilliwack, Cloverdale, Langley, Marpole
TEAM GARDNER
Skip: Isobel Gardner
Third: Nancy Stagg
Second: Teri Walker
Lead: Paula LeSage
Alternate: Patricia Mackintosh
Clubs: Royal City, Cloverdale & Town
TEAM SHANTZ
Skip: Penny Shantz
Third: Cindy Curtain
Second: Janet Suter
Lead: Shirley Wong
Alternate: Karen Ruus
Club: Parksville
TEAM RAMPTON
Skip: Laura Rampton
Third: Pam Chow
Second: Connie Bailey
Lead: Jay Taylor
Club: Marpole
TEAM BURRUS
Skip: Marilynne Burrus
Third: Mona Bassett
Second: Terry Townsend-Jones
Lead: Rita Araki
Club: Royal City
TEAM LEE
Skip: Lynn Lee
Third: Heather Nichol
Second: Joan Fiedler
Lead: Joy Walker
Clubs: Cranbrook/Castlegar
TEAM LEPINE
Skip: Karen lepine
Third: Tracey Smith
Second: Claire Morrison
Lead: Terry Parent
Clubs: Langley, Cloverdale, Royal City
And the men's teams are:
TEAM ZBEETNOFF
Skip: Darrell Zbeetnoff
Third: Mike Kavanagh
Second: Doug Boynton
Lead: Roger Mulligan
Club: Peace Arch
TEAM CRAIG
Skip: Wes Craig
Third: Ron Schmidt
Second: Tony Anslow
Lead: Victor Gamble
Club: Duncan
TEAM SHIMIZU
Skip: Vic Shimizu
Third: Darryl Neighbour
Second: Wayne Hogaboam
Lead: Ben Nishi
Club: Cloverdale
TEAM VAN YZERLOO
Skip: Bill van Yzerloo
Third: Myron Nichol
Second: Don Freschi
Lead: Richard Faunt
Alternate: Garry Beaudry
Clubs: Castlegar, Trail, Nelson
TEAM DUDAR
Skip: Michael Dudar
Third: Stephen Wiles
Second: Chet Masse
Lead: Rick Callander
Alternate: Rob Frith
Club: Duncan
TEAM ZWARYCH
Skip: John Zwarych
Third: Mike Weir
Second: Wayne Nurse
Lead: Wayne Saito
Club: Royal City
TEAM LEPINE
Skip: Craig Lepine
Third: Dale Hockley
Second: Craig McLeod
Lead: Kevin Jeannotte
Clubs: Royal City, Langley, Penticton, Cloverdale
TEAM KING
Skip: Blake King
Third: David S. Johnston
Second: James H. Stephenson
Lead: Garnet Boese
Club: Kelowna
TEAM SIEG
Skip: Lyle Sieg
Third: Brett Kury
Second: Doug O'Bryne
Lead: Nick Douce
Club: Langley
TEAM MOORE
Skip: Garth Moore
Third: Rob Rempel
Second: Fred Fox
Lead: Pierre Gallant
Club: Royal City
TEAM McDONALD
Skip: Richard Brower
Third: Al Moore
Second: Paul Dunkin
Lead: Larry Macdonald
Club: Vancouver
TEAM SWITZER
Skip: Keith Switzer
Third: Mike Moss
Second: Rick Chin
Lead: Nick Parrotta
Alternate: Ted Bassett
Clubs: Vancouver, Marpole
Subscribe to our newsletter
Receive the latest news updates, tournaments, programs, services and discounts.