2022 BC Mixed Doubles Champions crowned in Langley
March 07, 2022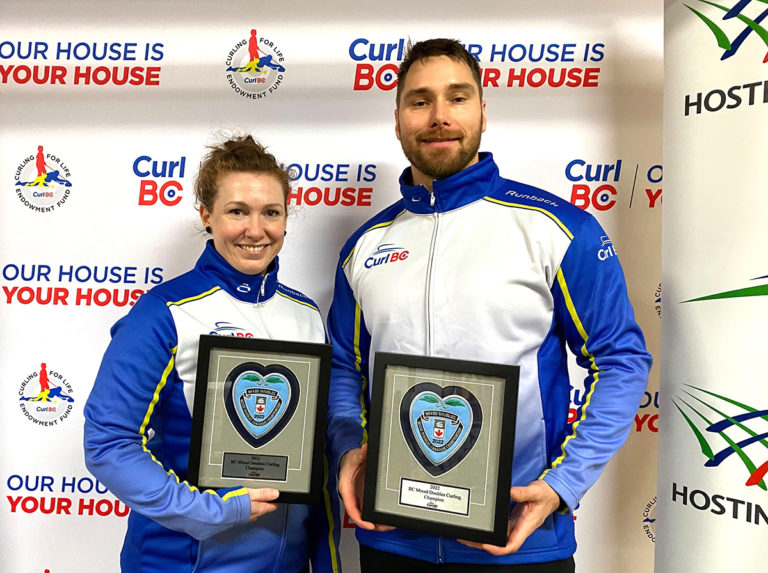 The 2022 BC Mixed Doubles Championship really heated things up in Langley over the past four days. In the battle to crown a new BC champion, twenty two-person co-ed teams met up across four pools and eleven draws.
Draw one, on Thursday afternoon, saw all six sheets of the Langley Curling Club in action, with Jenn Routliffe and Darren Frycz win 7-6 over Marilou Richter and Craig McLeod; Kayla Wilson and Matt McCrady 7-5 over Donna Mychaluk and Kevin Jeannotte; Diane Gushulak and Patrick Prade 10-2 over Emma-Gail Woike and Daniel Deng 10-2; Bryelle Wong and Alex Duncan-Wu 11-4 over Sasha Wilson and Alex Horvath; Layna Pohlod and Daniel Wenzek 13-2 over Lori-Anne McGowan and Wayne Moore; and Karly King Simpson and Connar Croteau 8-3 over Regan and Ryan Taylor.
Draw two, on Friday morning, saw six more games, with Sarah Wark and Andrew Nerpin winning 12-2 over Vicki Rees and Darren Schellekens; Shannon Ward and Robbie Gallaugher 10-2 over Gabby Brissette and Coburn Fadden; Wong/Duncan-Wu 7-4 over Ashley Mallet and Josh Miki; Wilson/McCrady 10-2 over Marijke McDonald and Troy Cowan; Ashley Ann and Grant Dezura 10-3 over Taylor/Taylor; and Megan McGillivray and Logan Miron 9-8 over Routliff/Frycz.
Friday afternoon brought Draw three, with King Simpson/Croteau winning 9-2 over McGowan/Moore; Woike/Deng 11-8 over Wilson/Horvath; Wark/Nerpin 9-7 over McGillivray/Miron; Gushulak/Prade 8-8 over Mallet/Miki; Cowan/McDonald 8-7 over Ward/Gallaugher; and Pohlod/Wenzek 10-9 over Dezura/Dezura.
Draw four, later Friday afternoon, saw Pohlod/Wenzek defeat Taylor/Taylor 9-2; Gushulak/Prade 8-3 over Wong/Duncan-Wu; Wilson-McCrady 10-6 over Ward/Gallaugher; Mychaluk/Jeannotte 8-3 over Brissette/Fadden; Wark.Nerpin 5-4 over Routliffe/Frycz; and Richter/McLeod 9-8 over Rees/Schellekens.
By the time draw five rolled around, on Saturday morning, the field had narrowed. As the remaining teams' thoughts concentrated on the upcoming final game, Brissette Fadden topped McDonald Cowan 8-3; there was Dezura/Dezura 12-4 over McGowan/Moore; McGillivray/Miron 9-4 over Rees Schellekens; and Mallett/Miki 9-6 over Woike/Deng.
Draw six, Saturday at noon, saw Ward/Gallaugher 10-2 over Mychaluk Jeannotte; Wark/Nerpin 7-2 over McLeoed/Richter; McGowan/Moore 6-5 over Taylor/Taylor; King Simpson/Croteau 8-4 over Pohlod/Wenzek; Wong/Duncan-Wu 7-2 over Woike/Deng; and Gushulak/Prade 8-4 over Wilson/Horvath.
Later Saturday afternoon, Draw seven saw McCrady/Wilson 8-6 over Brissette/Fadden; Routliffe/Frycz 10-8 over Rees Schellekens; Dezura/Dezura 8-7 over King Simposon/Croteau; McLeod/Richter 9-7 over McGillivray/Miron; Mallett/Miki 7-1 over Wilson/Horvath; and McDonald/Cowan 9-5 over Mychaluk/Jeannotte.
Saturday closed out with three games in draw 8, which ended with McLeod Richter 7-1 over McGillivray/Miron; Ward/Gallaugher 12-8 over McDonald/Cowan; and King Simpson/Croteau 8-6 over Dezura/Dezura.
The playoffs began first thing Sunday, with McCrady/Wilson 5-2 over Ward/Gallaugher; Kling Simpson/Croteau 6-5 over Gushulak/Prade; Wark/Nerpin 12-2 over McLeod/Richter, and Pohlod/Wenzek 7-2 over Wong/Duncan-Wu.
That led into the semi-finals at noon on Sunday with Wark/Nerpin defeating King Simpson/Croteau 8-6, and McCrady/Wilson bringing down Pohlod/Wenzek 7-4.
The championship final, which pit Wark/Nerpin against McCrady/Wilson, was an eight-end duel which saw the score see-saw at first, until Wark/Nerpin pulled ahead in the sixth and went on to take the crown. The final score was Wark/Nerpin 5, McCrady/Wilson 4.
Subscribe to our newsletter
Receive the latest news updates, tournaments, programs, services and discounts.