2021 awards changes
January 20, 2021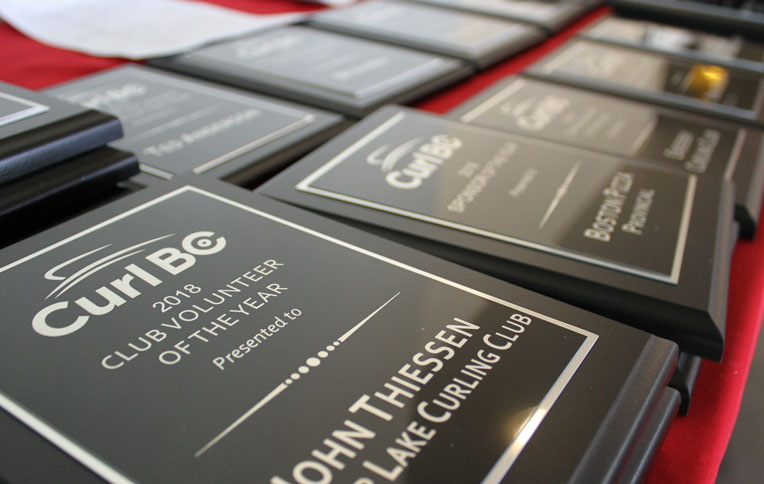 Curl BC is accepting nominations for the 2021 awards season.
The awards, however, have been pared down to five categories.
Communications & Marketing Manager Rebecca Connop Price said: "This has been an extremely challenging year for all of us because of the Covid-19 pandemic. But despite all the challenges, a wonderful group of dedicated professionals and an army of volunteers worked tirelessly to make it possible for many of our curling clubs to open safely."
It is for that reason that Curl BC has decided to open nominations for just five categories.  The five categories that are open are:
The Curling Centre Volunteer of the Year
To recognize the outstanding contribution of an individual club member to his or her curling club that sets him or her apart from all other volunteers at the club level around the province; must clearly represent exceptional service to the club.
The Club Administrator of the Year (The Ron Houston Award)
This award was established in June 2016 in order to recognize contributions to curling in general, the growth of curling in our province, or advancements or innovations to curling by a person who receives remuneration for the work that they do in curling (for example Club Manager, Ice Technician, or Association employee).
Long Service Volunteer (Pat Kennedy Award)
To a volunteer who has served curling in BC in an outstanding capacity over a number of years; must include service at the regional and/or provincial level as the primary considerations.
Builder: Janette Robbins Award & Sport BC President's Award
To an individual who represents the spirit of volunteerism and whose outstanding dedication energy and commitment is critical to curling development and the advancement of curling in BC, and who has set an example of service for other volunteers.
Judie Roberts Friendship Award
The Judie Roberts Friendship Award is presented to a person or organization that has performed exceptional service to benefit curling in BC. The recipient is a friend to the sport of curling in any capacity but is not eligible for other Curl BC awards and may or may not be a member of a Curl BC partnership group.
Among the categories not being opened for nominations are the performance awards, the Anita Cochrane Coach of the Year, the Wally M'Lot Official of the Year, the Elsie MacKenzie Junior Volunteer Award, the Curling Centre of the Year Award and the Sponsor of the Year Award.
Connop Price added: "We are committed to recognizing the hard work done by volunteers and administrators during Covid-19.  But we need your help. Let us know who among this fantastic group deserves a special thank you."
Visit http://www.curlbc.ca/awards/curl-bc-awards/ to nominate someone in your community.
Nominations are open for all categories until Mar. 31, 2021.
This season we aim to feature these heroes through stories on our website, in local media and through a series of social media posts.
Subscribe to our newsletter
Receive the latest news updates, tournaments, programs, services and discounts.