2020 stick champions decided
December 16, 2019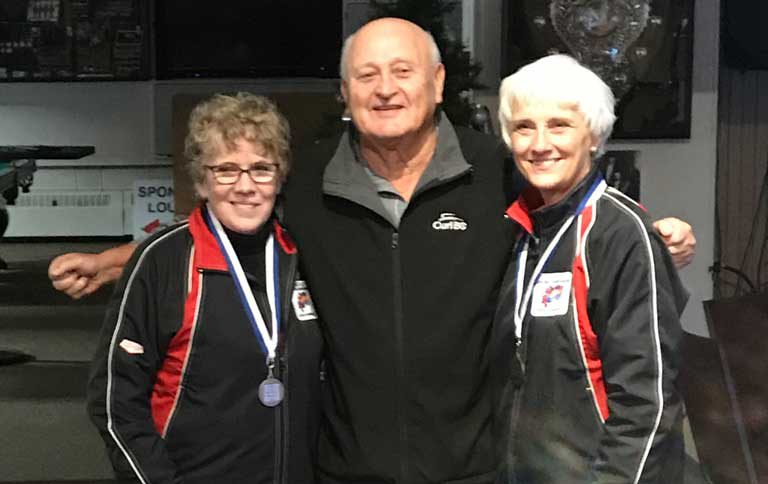 A team from Vernon and a team from Armstrong have been declared 2020 BC Stick Curling Champions over the weekend.
This version of curling is played by two people throwing with a stick instead of the traditional slide delivery.
The 2020 Open and Women's Stick Curling Championships took place at Vernon Curling Club from Dec. 14-15.
This was the inaugural year of the women's competition, with Armstrong's McLaughlin/Mouncey team taking first place. Deb McLaughlin and Diane Mouncey went undefeated in the competition.
The open event featured teams of men as well as mixed teams. The title went to Vernon's Bryanton/Olson duo. Cliff Bryanton and Blaine Olson suffered only one defeat in pool play and went undefeated in the playoffs.
The winning teams have earned berths to nationals at the Highland Curling Club in Regina from April 6-9.
These were direct entry championships and teams from across BC were invited to register. Teams from Vernon, Enderby, Abbotsford, Salmon Arm, Armstrong, Kelowna, Creston and Comox Valley were all in attendance.
The Open Stick Curling Championships have been running for more than a decade but this was the first year that a women-only championship was staged in BC.
Sportsmanship awards were presented to Lois Mollard and Tim Smith.
Scores and rosters are available for the open event here: http://bot.curlbc.ca//web/CompRR?compid=3106
Scores and rosters are available for the women's event here: http://bot.curlbc.ca//web/CompRR?compid=3116
MEDAL WINNERS:
Open teams:
Gold
Bryanton/Olson
Vernon Curling Club
Player 1: Cliff Bryanton
Player 2: Blaine Olson
Silver
Wejr/Prokopetz
Vernon Curling Club
Player 1: Alan Wejr
Player 2: Jack Prokopetz
Bronze (awarded to two teams)
Fowler-Heinrichs
Armstrong
Player 1: Wayne Heinrichs
Player 2: Bill Fowler
Smith-Pieper
Armstrong
Player 1: Tim Smith
Player 2: Chris Pieper
Women's teams:
Gold
McLaughlin/Mouncey
Armstrong Curling Club
Player 1: Deb McLaughlin
Player 2: Diane Mouncey
Silver
Sears/Heinrichs
Armstrong Curling Club
Player 1: Sheron Sears
Player 2: Carol Heinrichs
Bronze
LA LA Land
Kelowna Curling Club
Player 1: Ann McColl
Player 2: Lynne Margetts
Subscribe to our newsletter
Receive the latest news updates, tournaments, programs, services and discounts.