2023 BC U18 Championships bring late December thrills to Richmond
December 28, 2022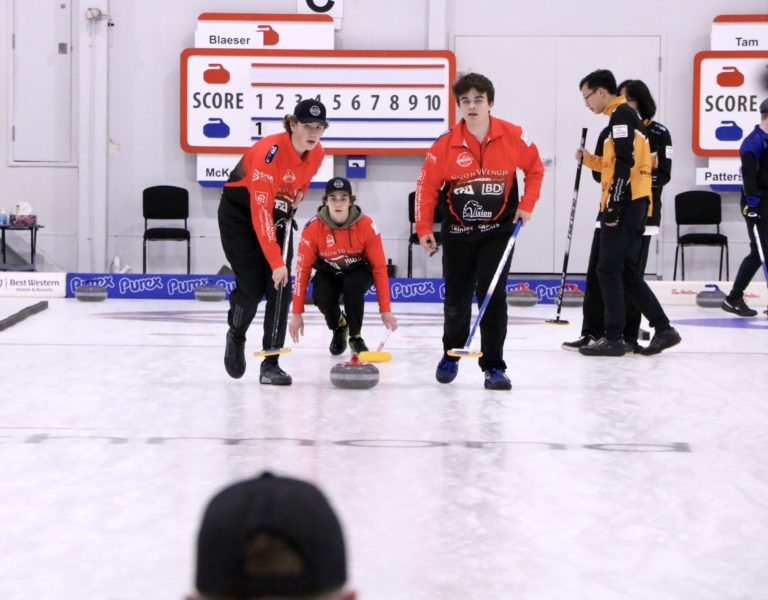 2023 BC U18 Championships bring late-December thrills to community of Richmond
On the heels of successfully hosting the 2023 BC Wheelchair Championships, Richmond Curling Centre is at it again hosting the 2023 BC U18 Girls and Boys Championships which began today at 2:00PM PST.
The event features a number of former champions and medalists at the BC Winter Games, Canada Winter Games, U18 and U21 Championship levels.
Teams will be hosted to a banquet by the Richmond Curling Centre this evening. Draws 2-4 will continue tomorrow at 9:00AM, 2:00PM and 7:00PM PST.
Curling Fans are encouraged to visit the Richmond Curing Centre to catch all the excitement from December 28th-31st. if you are not in the area, you can catch all of the games on the Curl BC YouTube Channel.
The U18 championship will see seven women's teams and five men's teams will take to the ice in a triple knockout format that will see 3 teams advancing to the playoffs for both genders.
Team Adam Fenton were last year's men's champions, they were made up of Adam Fenton (skip), Alex Duncan-Wu (third), Wesley Wu (lead), and were coached by coaches Fuji Miki and Brad Fenton. The 2022 women's champions were Team Gracelyn Richards, featuring Gracelyn Richards (skip), Keelie Duncan (third), Grace McCusker (second), Carley Hardie (lead), and coach Adam Duncan
This year, the seven women's teams competing are:
Team Dezura
Ashley Dezura, skip
Savannah Miley, third
Hannah Smeed, second
Brooklyn Aleksic, lead
Team Duncan
Keelie Duncan, skip
Meredith McCullum, third
Carley Hardie, second
Ashley Fenton, lead
Team Hafeli
Holly Hafeli, skip
Jorja Kopytko, third
Eryn Czirfusz, second
Natalie Hafeli, lead
Team Manning
Erin Manning, skip
Rachel Lane, third
Miranda Allen, second
Kaitlyn Rouw, lead
Team Norrington
Sidney Norrington, skip
Ara Yoo, third
Ella Wang, second
Carmen Chong, lead
Team Arndt
Ava Arndt, skip
Bethany Evans, third
Ivy Jensen, lead
Team Wong
Bryelle Wong, skip
Morgan Bowles, third
Alexis Nguyen, second
Erin Fitzgibbon, lead
And the five men's teams are:
Team Blaeser
Nolan Blaeser, skip
Kaiden Beck, third
Nolan Beck, second
Koen Hampshire, lead
Team McKenzie
Taj McKenzie, skip
Isaac Lauzon, third
James McCreedy, second
Felix Lau, lead
Team Patterson
Casey Patterson, lead
Blake Willich, third
Quinn Farmer, second
Ryan Farmer, lead
Team Shelin
Liam Shelin, skip
Presley Crerar, third
Riley Cote, second
Xen Bowler, lead
Team Tam
Adrian Tam, skip
Austin Tomlinson, third
Ethan Chiu, second
Harrison Hrynew, lead
Curl BC would like to recognize this championship conclude with was funded in part by, a grant from viaSport BC and the Province of British Columbia.
The Semi and Finals for the Boys event will be on December 30th at 2:00PM and 7:00PM, followed by the women's Semi and Final taking place on New Year's Eve. The Gold medal winners along with the finalists of both genders will advance to the Curling Canada U18 National Championship, which takes place February 5th to 11th, 2023, in Schumacher, ON.
Subscribe to our newsletter
Receive the latest news updates, tournaments, programs, services and discounts.