14th Annual Richmond Wheelchair Bonspiel offers thrills, upsets, and great curling
November 23, 2022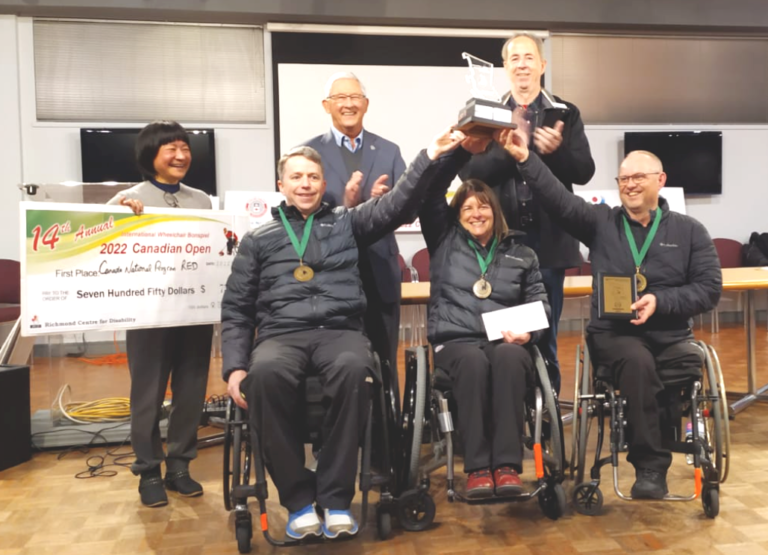 After a two-year absence due to COVID-19, the Richmond Centre for Disability's International Wheelchair Bonspiel 2022 Canadian Open came roaring back over the past weekend, for its 14th annual event.
The spiel, which ran November 16 to 19 at the Richmond Curling Club, saw five draws of round-robin play, followed by page playoffs, semi-finals, and then a gripping championship game.
In all, six mixed four-person teams took to the ice:
Team BC
Team Canada National Program Red
Team Canada National Program White
Team Gold Seal Sliders
Team Seoul
Team USA
After the ceremonial throwing of the first rock by Richmond mayor Malcolm Brodie, the competition portion of the event brought a few nail-biters, a few blowouts, and plenty of exciting curling.
With Team BC and the Gold Seal Sliders eliminated at the end of round-robin play, the semi-finals saw championship Canada Red defeat Seoul 4-3 to advance directly to the championship final.
On the sheet next door, Canada White defeated USA 5-3, propelling them into a game against Seoul for a spot in the final. Seoul triumphed in that game 3-2, punching their ticket to the gold medal game.
Meanwhile, Teams USA and Canada White fought it out for bronze and fourth place, with a Team USA victory.
The Championship final game saw Team Canada Red take the lead in the first, only to have Team Seoul rack up three points in the second and third. Canada got back on the board in the fourth, tied it up in the fifth, and then pulled ahead for a 6-5 win in the eighth.
The individual members of Team Canada Red are Mark Ideson, skip; Dennis Thiessen, third; Ina Forrest, second; Gil Dash, lead; and Kyle Paquette, coach.
For their first-place win, Team Canada Red won $750 (which they donated back to the bonspiel to help cover next year's operating expenses); Seoul took $500 for second place; USA $250 for third; and Canada White $100 for fourth.
Teams participating in the Wheelchair Bonspiel included many athletes who will compete later this season at the 2023 BC Wheelchair Championships in Richmond, along with athletes who will be competing at the WCF's 2023 World Wheelchair and 2023 World Wheelchair Mixed Doubles Championships in March, 2023, also in Richmond.
Congratulations to all who competed at this event over the past weekend, it was an exciting bonspiel filled with great curling.
Subscribe to our newsletter
Receive the latest news updates, tournaments, programs, services and discounts.