Officials/Development Opportunties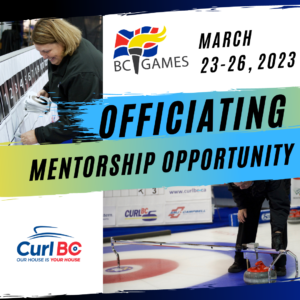 Curl BC is seeking Game Umpires/ Level 2 certified officials who are looking to take the next step and participate in the as a mentee in our new mentorship program. Officials chosen will be given the opportunity to work with BC's best officials and be asked to attend the  BC Winter Games held in Vernon BC and move towards becoming a Chief Umpire (level 3).
For those who are interested please fill out the application form HERE
People who are selected will have their expenses paid for (hotel and food per diem) for the BC winter games. They will also be asked to attend semi regular meetings In January, February, and March (Virtually) and then be there in person for the BC Games.
LEVEL 2 GAME UMPIRE REFRESHER COURSE:
Improve your skills as a game umpire,  supervisor (home and away) as well as a timing.
Date: January 14, 2023 – 10:00 am- 3:00 pm
Cost: 0.00
Location: Nanaimo Curling Club – 106 Wall St, Nanaimo, BC V9R 1Z7
Registration deadline: January 7th, 2023
Register HERE
Pre-requisites: Previous Level 2 / Game Umpire Training
Please bring warm clothes and curling shoes.
Additional inquiries can be emailed to pcseke@curlbc.ca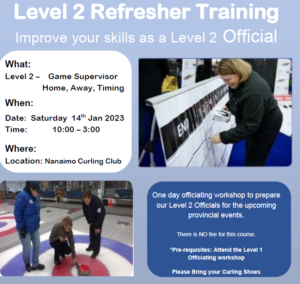 Officiating Guide Training
Nov 27, 2022 06:30 PM Pacific Time
Joinus for a live video training session on the 2022 2023 Officials Guide followed by a Q&A.
Please Join Curl BC Competitions Officiating Coordinator, Phil Mckenzie for a 90-minute presentation intended to prepare game umpires, deputy chief umpires, and chief umpires to be in a leadership role at Curl BC zone/open qualifiers and BC championships in 2022-23.
To register please visit https://us02web.zoom.us/meeting/register/tZAsdequrj4iGtBtOO0CcOLyDQUogQ3wetQT
2022-23 Development Opportunites of Game Timers and Game Observers (formerly level 1)
Leading up to each BC Championship Curl BC will hold training events for the Game Timers and Game Observers to receive practical training after they have completed the online self study course. Click below to volunteer for a BC Champion and select timer/observer  if you are interested in timing or observing at a BC Championship this season.
The training days will be scheduled by each BC Championships organizing committee in collaboration with each events Chief Umpire or Deputy Chief Umpire . At these practical taining session volunteer receive the opportunity to use the equipment and software during a league or exhibition game at the host facility and develop confidance before timing an officiated game during the championship.
Click below if you are interested in one of these development oppotunities prior to a BC Championship this season.
| | | | |
| --- | --- | --- | --- |
| Event | Date | City | Volunteer Registration Form |
| BC Wheelchair | Dec 9th -11th | Richmond | Click Here |
| BC U18 | December 27th-31st | Richmond | Click Here |
| BC Scotties/Men's | January 10th -15th | Chilliwack | Click Here |
| BC U21 | January 24-29th | Duncan | Click Here |
| BC Mixed Doubles | February 7th-12th | Kamloops | Click Here |
| BC Stick | February 17th -19th | Armstrong | Click Here |
| BC Masters | February 21st -26th | Parksville | Click Here |
| BC Mixed | February 28th – March 5th | Penticton | Click Here |
| BC Senior | March 21st -26th | Langley | Click Here |
| BC Club | March 28th-April 2nd | Abbotsford | Click Here |